Afternoon Tea: A celebration of all things good
Afternoon Tea: A celebration of all things good … a quiet moment of relaxation in a busy day, a delicate tea cup filled with a steaming tea, an array of finger sandwiches, festive cookies, and tea cakes beautifully presented, and of course, scones with spread with preserves and thick cream.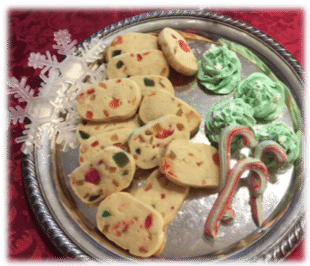 As part of the 20th anniversary celebrations of 'Country Christmas' in the Mad River Valley, on Saturday December 8th we will be offering a Snowflake Afternoon Tea between 2 and 4 PM – limited seating so reservations are required. Just $20 each + tax.  (Only $10 if you are here for two or more nights!)
Please email us or call us at 802-496-7162 by December 3rd for a reservation. You can also add a reservation to your stay when you book online.
Many of the shops and businesses in the Mad River Valley have special winter themed activities, sales, and decorations during 'Country Christmas' and it will be marvelous weekend to be staying here to check out all the Valley has to offer.
"Afternoon tea was introduced in England by Anna, the seventh Duchess of Bedford, in the year 1840. The Duchess would become hungry around four o'clock in the afternoon. The evening meal in her household was served fashionably late at eight o'clock, thus leaving a long period of time between lunch and dinner. The Duchess asked that a tray of tea, bread and butter (some time earlier, the Earl of Sandwich had had the idea of putting a filling between two slices of bread) and cake be brought to her room during the late afternoon. This became a habit of hers and she began inviting friends to join her.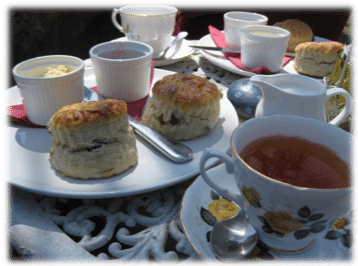 This pause for tea became a fashionable social event. During the 1880's upper-class and society women would change into long gowns, gloves and hats for their afternoon tea which was usually served in the drawing room between four and five o'clock." (historic-uk.com)
High Tea is a completely different event. Rather than tea and goodies at a low table in the drawing room (aka living room), high tea is a full meal eaten at the end of the day at a full height table. Thus High Tea.
Fortunately, the custom of afternoon tea has been embraced around the world and lovers of afternoon tea need look no further afield than West Hill House B&B where several times a year a special Afternoon Tea is served. So reserve your spot for our Saturday, December 8th, Snowflake Afternoon Tea – and we don't require long gowns, gloves and hats!