Smoky and Snowball, our marvelous cats, are celebrating their third birthday! We knew when we moved into our B&B that to add the perfect touch we needed some cats. A local farm was suggested as the best place to get kittens so we went to visit the Turners at Simplicity Farm to see if there were kittens available. Lo and behold, their cats are so sought after that we had to go on a waiting list.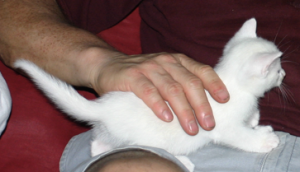 Well, the day finally came and we got a call to say that there were kittens and we could come have our pick.
They were just 6 weeks old and were they ever tiny! We chose two little balls of fur and brought them to their new home. They are brothers, from the same litter, but like siblings in a human family, they look different and they have very different purrsonalities.
Snowball sometimes needed a steadying hand as he learned to explore. While Smoky was quite adventurous and was off by leaps and bounds.
Now they are both quite adventurous and while Smoky continues to be the real explorer,  Snowball has perfected napping.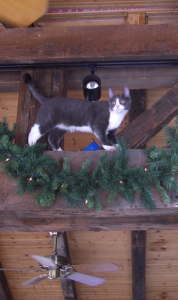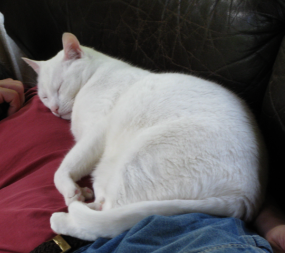 Smoky and Snowball are off to the vet next week for their annual check-up and shots. If they could speak in "human" I'm sure they would say, "The shots aren't as uncomfortable as both of us being in the carrying crate in the car on the way to the vet's. It's a wee bit more cramped now than when we were little guys. Fortunately it's just a short trip to Dr. Hadden and to help keep us happy, our human mom sings The Owl and the Pussy Cat song to us as we travel along."
Both Snowball and Smoky are very sociable and look forward to welcoming you to West Hill House.