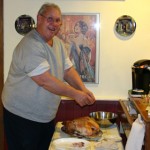 Every year West Hill House has welcomed guests over the Thanksgiving holiday and this year was no exception.
Gathered around our big dining room table, our guests joined with us and enjoyed a traditional Thanksgiving dinner with turkey and all the trimmings. One of our guests was a professional meat cutter and volunteered to carve the turkey.
The evening was an enjoyable mix of good food, good company, and new friendships.
We also have a special dinner on Christmas Day and a Burns Supper on the Saturday closest to January 25th each year.