Charles N. Pruitt considers himself an "impressionist of the Southwest" because of his devotion to working from life, painting in oils directly from nature using the "alla prima" or "plein air" method. Using close observation of nature, the effects of light, composition and interpretation of values based on intuition, emotion and his experience, has led to a style described as spontaneous and honest.
He is returning to the Valley following a field study visit in the fall of 2008, and will host a 3-day workshop at West Hill House B&B. The painting here is an example of the work he did in 2008.
The daily workshops will start with a demonstration painting by Charles, followed by guidance on an individual basis for each participant as they do their own painting. Participants should bring their own easel, canvas, paints, brushes etc. and a stool.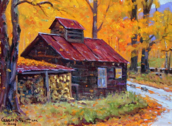 Dates: 24th, 25th & 26th August 2010
Prices will be as follows:
$60 per day (including lunch)
$150 for all 3 days (including lunch)
Special: $50 for all 3 days with a 3-night stay
Please call to book: 800-209-1049 or 802-496-7162. Spaces are limited.
This is a sanctioned event of the Vermont Festival of the Arts.