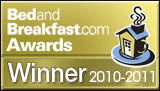 We are delighted to announce that once again for 2010-11 West Hill House B&B has been selected as one of the top 10 B&Bs in New England by BedandBreakfast.com. We are one of only four B&Bs in Vermont to be recognized in their 2010-11 awards in various categories, and we have won this award in 3 out of the last 4 years.
The selection criteria for the Best of BedandBreakfast.com Awards include both quantitative and qualitative analysis of the independently posted reviews on BedandBreakfast.com. So to you, our guests, we thank you for sharing on-line the great experience you had when visiting West Hill House.
We look forward to providing the same exceptional experience to return and future guests during all seasons of the year – come and visit us (again) soon!