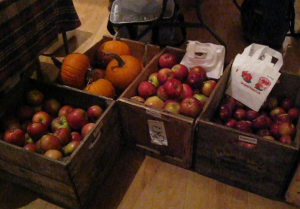 Last weekend we attended our local Thanksgiving Mad River Valley Farmers' Market.  There was a definite feeling of winter in the air so it was fortunate that this event was held indoors at the Inn at the Round Barn Farm.
What a variety of food, handicrafts and even some music! Locals and visitors alike wandered among the displays filling their bags with local fare.
Everything from beautiful handicrafts, to amazing cheeses made by Three Shepherds Cheese (we really liked the strong King Louis cheese), to chair massages from Mad River Massage (always relaxing), to a magnificent array of vegetables from local farms. The amazing displays pictured here are from David Hartshorns' Santa Davida Farm.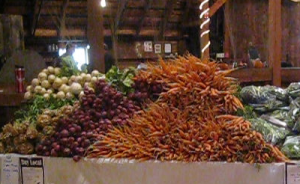 Although this is our last Farmers' Market for the year we invite you to come experience our winter wonderland – see our immediately prior blog entry about Ski Time in the Mad River Valley – then return next summer to visit our Summer Farmers' Market held every Saturday morning from Memorial Day through to the end of October.