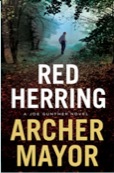 Mystery fans seldom get to meet their favorite writer let alone sit down with him and  talk about the secrets of the trade. On August 26 and 27, at the West Hill House B&B in Warren, VT, you will get that chance, with Vermont's own detective mystery writer Archer Mayor.
The author wears many hats: medical examiner, cop, fire fighter, reporter, photographer … stir these all together, add a pinch of intrigue and one large helping of a mysterious murder and from these ingredients Archer Mayor has created Vermont's own fiction super sleuth Joe Gunther. Joe is a local policeman, who is best described as kind and compassionate but sharp and intelligent, in short the kind of cop you hope shows up when you need one.
If you have never read an Archer Mayor mystery, go get one (or more). Red Herring is his latest in paper back.
All these events are being held in the Handsome Red Barn at West Hill House B&B in Warren, VT. The details are:
Friday evening, August 26 at 7 pm: Archer Mayor brings his personal experience as a medical examiner to the front with an enjoyable and informative talk, "Not CSI: Forensics – Truth or Fiction." $10/person. Light refreshments provided.
Saturday afternoon, August 27 at 2 pm: aspiring writers will gather to attend a 2-hour workshop entitled "How Archer Does What He Does". Attendees will gain insight into site, plot and character development. $30/person, $15 for students with ID. Light snack provided.
Saturday evening, August 27 at 7 pm: "Archer Mayor Let Loose". This informal evening will be fun filled as Archer Mayor entertains with his insight, experience, humor and storytelling. Autographed book included. $25/person. Dessert buffet provided.
Advance tickets are required, space is limited. This is a sanctioned event of the Vermont Festival of the Arts. Call 802-496-7162 for tickets.
Come and stay at West Hill House B&B on the Friday and Saturday night and attend all three events for $50 per person plus the cost of your room.