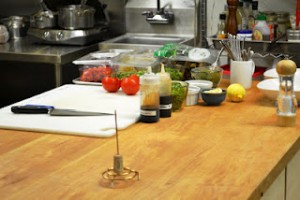 Today Peter and I (Susan) had a marvelous lunch at MINT, a local vegetarian restaurant in Waitsfield.
In the wake of  tropical storm Irene, which flooded the restaurant with 5 feet of muddy water, MINT has been reborn through the hard work of  it's owners Savitri and Iliyan. The restaurant now boasts a new layout, including an open kitchen, comfortably cushioned chairs and a colorful, relaxing and inviting ethnic decor with much of the decoration having been done by the owners themselves.
Thinking we would just stop for a pot of one of their many tea varieties, we were enticed by the menu and chose lunch instead; mushroom and flava bean soup, a tomato-mozzarella sandwich, and yes, a pot of tea, White Darjeeling. The soup was as tasty as it was aromatic (I should have ordered a large bowl!) and was accompanied by a lightly grilled slice of hearty artisan bread.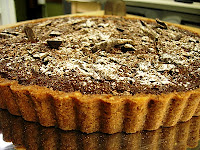 A small salad of mixed greens was served with our toasty warm sandwich making it hard to decide which to start on first. Tea of any kind hits the spot with me so enjoying a pot of perfectly steeped tea at the end of our meal was delightful. Unfortunately time was ticking away and we had to forego dessert but the Pumpkin and Chocolate tart with Belgian chocolate and crunchy crust sounded awfully good!
The lunch and dinner menus are inventive and delectable so don't expect a vegetarian menu of plain-old pasta with tomato sauce. Using an abundance of local produce allows the creativity of both Iliyan and Savitri to shine through in both menu and presentation.
Whether an omnivore or vegetarian your appetite is surely to be tempted and satisfied at MINT,  it is a gem of a restaurant in the heart of the Green Mountains.
Tell them Susan and Peter sent you!
Photos taken from the MINT website.