Green is in – especially here in Vermont. Among other things, here at West Hill House we use "green" light bulbs, we have solar panels to preheat our hot water, we have rooms with individually adjustable temperature controls, we drive a hybrid car and, we use reusable bags for our shopping.
Every conference that we have been to in the last 10 years has given out conference material in a reusable bag. After our most recent conference our count is now 43 reusable bags with about 10 others having been already "retired" due to wear.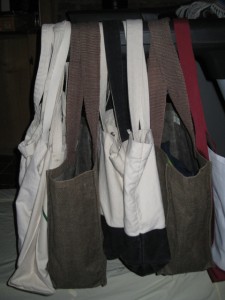 So what to do with all those bags? A friend made throw pillows and is thinking of making a quilt top which would use up some of her bags.
While he promised to use his new bag for its intended purpose, we got a photo of this young man's first and somewhat questionable fashion use for his new bag.
We encourage the use of 'green' bags, just be aware that all kinds of germs can be transferred to you from your bag. Think of all the places your bag (or purse for that matter) has been recently; the floor of a shop, the soccer field, the locker room, a public washroom, or the floor of your car. If you use your bags for carrying groceries, remember that raw food can transfer germs to the bag as well as to other foods in the bag. Bags often end up on the kitchen counter where the germs are happy to go forth and multiply. Think green. Stay healthy. Wash your reusable bags frequently.