Guest Blog by David & Tracy Platt…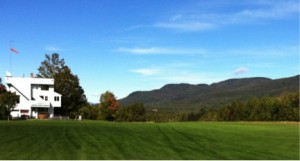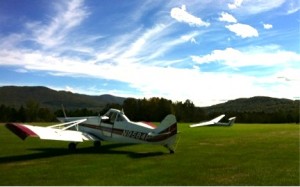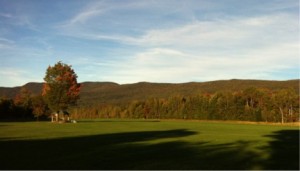 If you happen to be looking for something to do in Sugarbush, try the Soaring!
Had a great time during my visit and a chance to get a few flights in over 2 days.  The folks at Sugarbush Soaring are fantastic and their instructors are excellent.  It's a great way to see the countryside and especially see the sights during foliage season.  And who knows, you might find you like flying (the best part for me).
Getting to the airport takes you through some nice country and it's not too far from the B&B.  The airport itself I think is the prettiest airport I've seen.  Panoramic views of the hills and a beautiful open grass meadow that can double for a runway.   If you're looking for a place to have a picnic (seriously) this is a place to consider.  Even waiting between flights is just so peaceful over there.  At times they also have a small café open in the main building which makes good food and has a great view.
When I went they paired me up with an instructor who walked me through everything and was very good about answering any questions.  It was clear the folks there really know their stuff, want to help, and want you to have fun.  Sailplanes are amazing machines.  They're very good at taking advantage of rising air and use it like an elevator.  They're sometimes called gliders but they're really sailplanes and with a skilled pilot taking advantage of the various air currents can stay aloft for hours.  I think its as close to flying like a bird as you'll get.
Going up for my flights was an experience.  My experience for one of my flights went something like this:  You buckle in, close the canopy, and the tow-plane (after all you have to get in the air somehow) takes up the slack in a tow line.  You give the signal, and off you go getting towed into the sky by another airplane!  Climb for a few thousand feet and pull the cable release.  The tow plane flys away and the real fun begins.  We headed over to a hillside on our first flight that we thought would generate some lift (mostly thermals or rising columns of air).  After some searching we found some and gained a little more altitude.  Yes, we're climbing with no engine!  A thousand feet or so later and we're off to another part of the valley looking for more.  During this time we're enjoying the amazing views from that height.  We could see Lake Champlain and rolling hills for miles with the trees starting to turn colors.  Amazing.  After having our fill of the experience we came back in to a smooth landing and rolled to a stop on the grass at the airport.
Sorry, I was too busy flying to take pictures from the air!
I can't recommend going to the airport enough.  Personally, we came up from Weston mostly for this.  Do call and make reservations though if you plan to go just to be safe as they can get busy at times.
PS – we also enjoyed our stay at the inn.  Fantastic place!
(For more information about soaring check the Specials listing.)