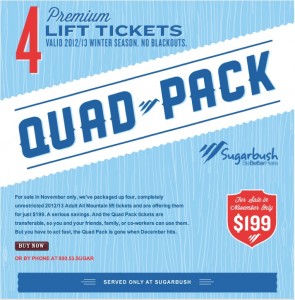 The snow is flying, Sugarbush is open and Mad River Glen is opening soon.  It's time to plan to your ski vacation!
You have an IMMEDIATE, but fleeting, opportunity to get a great deal on Sugarbush ski tickets for the coming season with their Quad-Pack.  The great thing about this pack is that there are no black-outs and you can share it.  So 4 unrestricted tickets at $50 each! These are ideal if you plan to ski during Christmas week, MLK weekend or President's Week as our Ski and Stay Passport is blacked-out at those times. But you must buy them in advance on or before November 30th.
From December 15th onwards, other than the black-out dates, our Ski and Stay Passport offers great value as you can ski freely at Mad River Glen, Sugarbush and Olé's cross-country, as well as enjoy offers and freebies at local stores and restaurants most evenings.
If you are planning to come during the Christmas season from December 21st to January 1st, please finalize your plans now!  We do have some rooms still available for some dates, but we are filling up fast!