With early season snowflakes whirling about them, and the temperature sitting at about 28°F, Ryan and Jeff were married in the meadow at West Hill House B&B. Our favorite Justice of the Peace, Greg Trulson officiated at the wedding making it a very meaningful occasion, as he always does. Following the ceremony,  the newly married couple asked Peter to continue taking photos as they enjoyed a short stroll around our wintery gardens.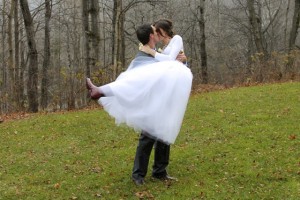 Warming up by the fireplace a few minutes later Ryan and Jeff enjoyed an intimate wedding reception complete with wedding cake, made here at West Hill House, and a bottle of  Champagne. They were kind enough to invite Greg and Peter and Susan to join them.
Ryan loves experimenting with recipes. Check out her food blog called Skinny Supper. It's a fun site with lots of photos to help you along.