One of the most beautiful soaring sites in the United States is right here in the Mad River Valley. See the stunning Vermont landscape in a whole new way: from above. Warren-Sugarbush Airport, less than five miles from our Inn, is a well-known glider airport and home to Sugarbush Soaring. It has served as the venue for National Championship Soaring events.
The airport provides sightseeing rides – a particular joy for anyone who loves heights and lives for a great view. A glider ride is a wonderful gift – for a birthday, romantic anniversary, Father's Day, you name it.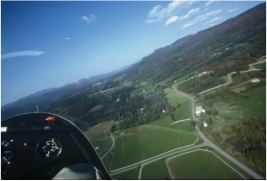 Sugarbush Soaring offers 15, 20, and 30 minute rides. Experienced commercial pilots treat you to a magnificent view of the Mad River Valley. On a clear day you can see the Adirondacks and Lake Champlain to the west, Camel's Hump and Mt. Mansfield to the north, and Mt. Washington and the White Mountains to the east.  In the fall – when the mountains turn fiery with fall foliage – the view is truly spectacular.
Call the office at (802) 496-2290 for current rates.
Types of Glider Soaring
Circling Thermal Lift
Thermal lift is the most common in soaring and is formed when solar radiation heats the ground which then heats the surrounding air. Rising like a hot air balloon, the warm air forms thermals, a source of surprisingly strong lift.
Ridge Lift
Ridge lift is completely different. Formed when the wind is at right angles to a ridge line, ridge lift can extend for hundreds of miles along a mountain range. Sailplane pilots have flown over a thousand miles in ridge lift.
Wave Lift
Soaring in mountain waves is for many glider pilots the epitome of the soaring experience. Under certain atmospheric conditions, huge standing waves of rising and falling air can form on the leeward side of a mountain, just as the water ripples downstream of a rock. Point the ship's nose into the wind and enjoy the elevator ride up at sometimes 1,500 feet per minute while staying over the same point on the ground far below.
Spring Lodging in Mad River Valley
Come to Warren this spring and experience the gentler (and greener) side of Vermont. Once the skiing is over, all kinds of other outdoor activities like its place – like golf, hiking, cycling and gliding. For whatever adventure lies ahead of you, make West Hill Bed and Breakfast your home base for exploring central Vermont.