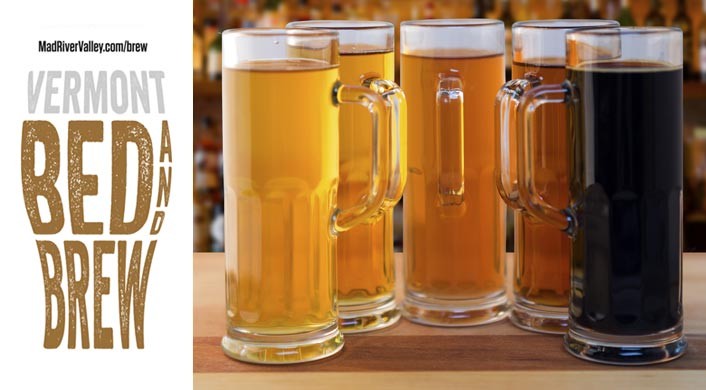 If you like craft beer and vacations, have we got the deal for you: the Vermont Bed and Brew Package is back for Spring. And we call it our "Brews and Snooze" special!
That's right, all you micro brew beer enthusiasts should sit up and take notice so you don't miss an opportunity that you can't (or at least probably shouldn't) refuse:
Mad River Valley's Chamber of Commerce is once again offering you a chance to tour and sample the offerings of our local, award-winning, craft breweries, plus two or more nights lodging – what a deal!
You know the Mad River Valley for its skiing, its incredibly photogenic autumn foliage, its unique and welcoming communities, and, if you're a beer enthusiast, all the great, craft breweries in the area. Touring them is a treat but can be logistically difficult: who drives? With the Vermont Bed and Brew Package, you can sit back and leave the driving to somebody else!
Here's how the tour works – You get picked up from the B&B at 10am by a 14-seat tour bus, complete with coolers for your purchases, that takes you to:
You'll also receive:
a gift box containing hearty snacks and unique treats
Specials to restaurants and shops in and around the Mad River Valley
a unique, Mad River Valley 6oz tasting glass to use at the breweries and take home
Vermont Bed and Beer Package
Spring Dates: April 26, May 17 and May 31, 2014
More details are shown on our "Brews and Snooze" special!
Now, call us biased, but we don't think you could do any better than West Hill House B&B, right here in Mad River Valley, when it comes to lodging for the Vermont Bed and Brew Package, so don't forget to select West Hill House B&B as your choice of accommodation – or we can book it for you but call soon because space is limited.
See you then!