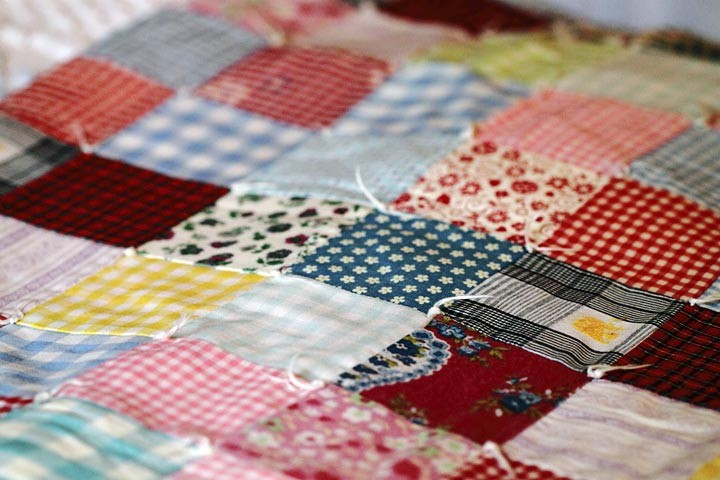 The Vermont Quilt Festival, scheduled for June 27th through 29th at the Champlain Valley Exposition Center, is New England's oldest and largest quilt event!
Quilting is a tradition that goes back far into our collective history. Who hasn't snuggled up under a big, soft quilt on a cold, winter night – or at least wished they could! There's something special about a handmade quilt – that family heirloom, that work of art – something that surpasses the depth of many other household objects whether you're a quilter yourself or just a fan, and that's what the 38th annual Vermont Quilt Festival is all about.
See how custom quilting evolved and survived during the early 20th century when the industrial revolution brought about a demand for things factory made. Learn about the amazing renaissance of custom quiltmaking in the early 1970s and see more than 50 lively and original quilts from this era. Marvel at the collection of quilts chronicling celebrated quilt artist Pamela Druhen's creative evolution. Quilts on display will range from representational landscapes to more expressive and abstract explorations.
Have an old, handmade or fancy, modern quilt whose value you've been curious about? Appraisers will be on hand during the show to look at and value both old and new quilts. Have a family or otherwise interesting pre-1960's quilt you'd like to share and maybe learn something new about? Bring it in for Quiltsearch team to publicly appraise for age, pattern, and condition, rather than value.
Thousands of quilts will be on display, new and antique, hand and machine made, plus quilting talks, contests, demonstrations, special dinners, and more!
The Vermont Quilt Festival 2014
June 27-29, 2014
For a full schedule and further details, please visit the Vermont Quilt Festival website.
Lodging in Northern Vermont
West Hill House B&B, located in Warren, Vermont's Mad River Valley, is about an hour away from the Vermont Quilt Festival in Essex Junction but a show this size can fill up venues fast. If you're looking for lodging in the area, consider giving us the opportunity to treat you to the best in Vermont hospitality.
The Handsome Red Barn at our B&B also makes us a perfect location for you and your fellow quilters to have a multi-day quilting retreat, with lots of space to set up, coffee and WiFi available, and just a few steps from your guest room—please call us to discuss.