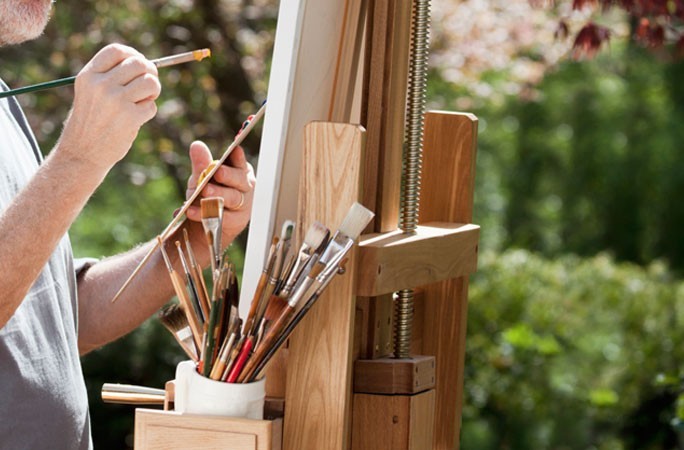 The Great Vermont Plein Air Paint-Out is a festival inside of a festival, located as it is within the circle of the 2014 Vermont Festival of the Arts, here in Vermont's Mad River Valley.
And just what is "Plein Air Painting" you ask?
Plein Air alludes to the French phrase "En plein air," meaning "in the open air." In other words, Plein Air painting is painting out of doors but, more than that, against the changing of the light. Racing against time and the movement of the sun and clouds to finish your work lends a sense of energy and excitement to the end result and is an important component of impressionist painting. During the mid-1800's, "en plein air" was a very popular movement, helped in part by the development of paint in tubes, the portable box easel, and influential artists like Pierre-Auguste Renoir, Camille Pissarro, and Claude Monet who practiced it.
Mad River Valley's own, historic Waitsfield Village will be the base and subject of the Great Vermont Plein Air Paint-Out when 50 artists from all over New England arrive to draw, sketch, and paint the beautiful local scenery. The local landscape is filled with great subjects, with its covered bridge, the serpentine stretch of Mad River, rustic barns, rolling fields, quaint store fronts, clapboard houses – anything and everything within a casual stroll of Waitsfield Village is fair game for the plein air artist's eye.
The actual painting for the Great Vermont Plein Air Paint-Out will occur Friday and Saturday, August 15th and 16th. Visitors are allowed to respectfully watch the artists work and some may not mind speaking with you as they paint, while others will, of course, prefer to quietly concentrate. If you've never had the opportunity to watch a painting come to life in the hands of an accomplished artist, it can be fascinating, instructive, and inspirational.
Come Saturday afternoon, August 16th, the artists will bring their completed plein air works for the Great Vermont Plein Air Paint-Out Sidewalk Art Show and Sale. Here you can view the results of their work and, if you so choose, purchase some to take home with you!
2014 Great Vermont Plein Air Paint-Out
August 15 and 16, 2014
Visit the Vermont Festival of the Arts website for more details on the Great Vermont Plein Air Paint-Out.
Plein Air Paint-Out Lodging
As of this writing, West Hill House B & B still has some rooms left for the 15th and 16th of August – but we're bound to fill up fast this time of year with all that is going on in. Reserve your Mad River Valley accommodations now!