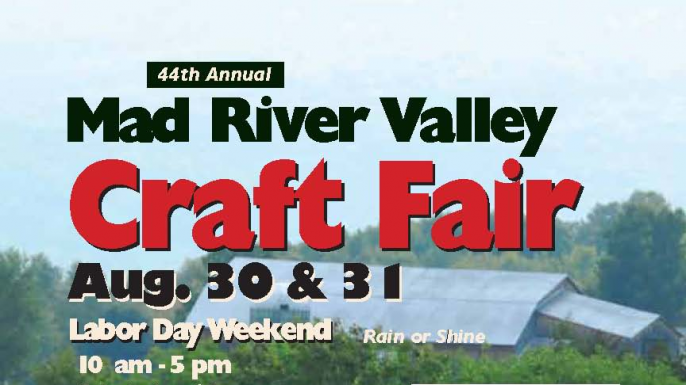 As the last few months have demonstrated, the Mad River Valley loves its art – and we're not done yet! Labor Day weekend sees the arrival of the 44th Annual Mad River Valley Craft Fair: August 30 & 31, 2014.
The 2014 Mad River Valley Craft Fair is 100 of the region's top artists and artisans displaying and selling their wares in a festival-style atmosphere that continues to attract visitors from all over Vermont and beyond. Started in 1971, the Mad River Valley Craft Fair is held in front of a backdrop of the majestic Green Mountains, under tents at Kenyon's Field in Waitsfield.
The Mad River Valley Craft Fair is hosted by the Valley Player's Theater and has a friendly, Renaissance-fair feel. Vendors offerings include both decorative and functional items including such goods as handmade clothing, furniture, baskets, jewelry, pottery and more.
The Mad River Valley Craft Fair features a food court with a delicious spread of offerings – not quite soup to nuts but hamburgers to vegetarian plus a enticing selection of goodies that might set your teeth back but will have your taste buds cheering for more.
Other attractions at the Mad River Valley Craft Fair include upbeat, live jazz and demonstrations by artisans for those interested in trying their hand at some homemade arts and crafts. There's even a personal shopper on hand to offer suggestions and help you find that perfect gift.
For those of you toting young ones along, there are plenty of distractions and activities to keep them busy while you browse, including face-painting, crafting, a big slide, dress-up, and more. Free parking, door prizes, and seated massages by Mad River Massage round out the festivities, so don't hesitate: come on out for a weekend of great food, fun, shopping, and more at the 44th Annual Mad River Valley Craft Fair!
Mad River Valley Craft Fair 2014
Saturday, August 30th – Sunday, August 31st – 10am-5pm
For more information: www.madrivercraftfair.com
Mad River Valley Craft Fair Lodging
Whatever brings you to the area – whether it's business, an event, or a Mad River Valley vacation – choosing a stay at West Hill House B&B is always your best bet. You will be treated as our personal guests with amenities you would expect in a luxurious hotel but provided, instead, on a quiet country lane and with skiing, golf, shopping, exploring, and more right at your fingertips. We look forward to serving you!