The Green Mountain Stage Race will take place August 29 – September 1, 2014, offering, as always, 4 days of exciting and challenging racing in the mountains of Vermont. We are honored to have had many accomplished cyclists stay at West Hill House B&B for the Green Mountain Race and look forward to the event again this year!
Lodging for the Green Mountain Stage Race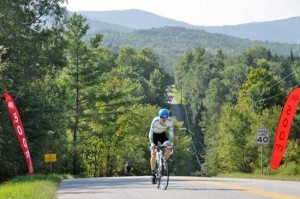 If you are coming into town for the race and need lodging in the Mad River Valley, here are a few perks to staying with us you might consider:
We have a large barn (our Handsome Red Barn) where there is room for you to set up and make adjustments
We have indoor storage for your bikes
We provide breakfast at the time you need it for your race schedule
If you stay with us for the race for three or more nights we offer a 15% discount
AND: If you are staying with us and finish in the top three in your class on any of the first three stages we will comp your room for that night! 
Registering for the Green Mountain Stage Race
You can register for the race online or by mail to: Green Mountain Stage Race, LLC P.O. Box 1172 Waitsfield VT 05673.
Recreational Cycling in the Mad River Valley
While future Olympians partake in races here, anyone can enjoy the beautiful vistas from our quiet back country roads, perfect for cycling. We can help you with everything you need to get your cycling trip underway. Bikes are available for rent at the Sugarbush Adventure Gear Shop, a few miles down the road, and we can provide you with maps and directions for miles of well-maintained blacktop routes.
If you would like to mountain bike, Sugarbush offers biking on some of their ski routes in the summer months.