Have you been reading "Top 10" lists over the last few weeks? If so you will have you see lists of almost everything under the sun, Top 10 Ugliest Cars, Top 10 Best Places to Live, Top 10 Best Companies to Work For, Top 10 Best Universities, and who knows, maybe even a list for the Top 10 Best Top 10 Lists!
Well…  here's our "Top 4" list – Four Great Reasons to come Ski in the Mad River Valley this Winter.
1.  Mad River Glen – Mad River Glen – Ski It If You Can. Seriously, don't miss out on skiing this legendary co-op owned ski area. Ranked by Ski Magazine as one of the most challenging on the east coast of the US, Mad River Glen provides an opportunity for skiers of all levels to ski a variety of trails on natural snow though narrow trails which follow the terrain. Riding the Single Chair, chairlift is an absolute must! Lessons, ski shop and General Stark Pub are hillside amenities. Down hill, telemark, and cross country skiers will love MRG but be warned snowboarders… you will  have to look elsewhere for your downhill excitement as no snowboards are allowed.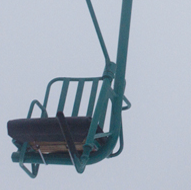 2. Sugarbush Ski Resort – As one of the largest ski areas in the northeastern US, and with two mountains to choose from, Lincoln Peak and Mount Ellen, snowboarders and skiers alike will enjoy the range of it's 111 trails from beginner slopes to the more challenging black diamond runs. Sugarbush is locally owned and offers lessons, a variety of places for foodies, ski shop and accommodations.
3. Blueberry Lake Cross-Country Center– Is a cross country skiers' delight. Designed for the average skiers,  outdoor enthusiast can enjoy the classic or skating style of skiing or can snowshoe on the 11 trails which includes 30km of groomed trails. Ski and snowshoe rentals are available as are lessons. Pre-skiing age children can also enjoy the outdoors in the comfort of a pulk which can also be rented. And for dog lovers, your well behaved dog is welcome and please, remember to clean up after your pooch.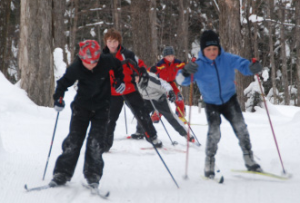 4. Olé's Cross-Country Center – Offering about 40km of groomed trails, lessons, rentals of both skis and snowshoes, a deli and friendly staff, Olé's beckons to cross-country skiers of all ages to come and enjoy winter. With relatively flat terrain skiers can explore the trails while getting great mountain views and if quiet woodland trails are your choice you'll find them here too. There are about 15km reserved for snowshoeing only and today's modern snowshoes are a lot easier to walk in that the old, oversized 'tennis rackets' and you don't need special boots, your regular winter boots fit these snowshoes nicely.
The Mad River Valley offers skiing of all sorts, comfortable B&Bs and slope-side accommodations, friendly folks, great food, beautiful shops, gorgeous mountains, stately trees, as well as wonderful snow, more mountains, more trees, more snow and lots of fresh, crisp mountain air.
Get your mittens and scarf ready and consider this your invitation to visit Vermont, winter in its natural state. Come experience skiing at its best. We're ready and waiting for you…what are you waiting for?