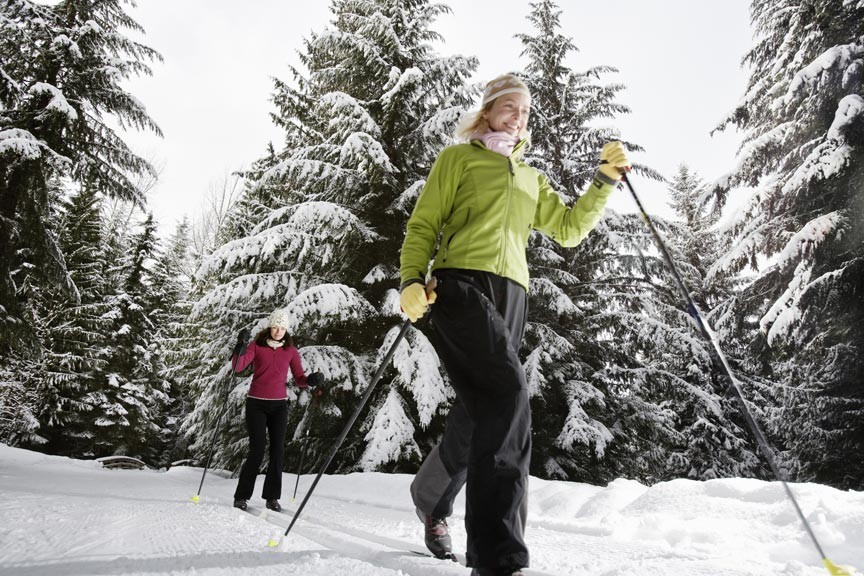 When old man winter blows his snows, the only thing to do is grab your hat and mittens and head out into it and enjoy it while it lasts. Vermont is a winter-sports wonderland and the Mad River Valley cross country skiing options are excellent!
Take a look:
Ole's Cross Country Ski Center
2355 Airport Road, Warren, VT
www.olesxc.com
Ole's Cross Country Center offers some of the best Mad River Valley cross country skiing and snowshoeing. With 30 miles of moderately rolling groomed trails, skiers of all abilities can comfortably ski and enjoy both panoramic views and the rare quiet of the deep woods.
Blueberry Lake Cross-Country Ski Center
424 Robinson Road, Warren, VT
www.blueberrylakeskivt.com
Offering both daily skiing and at-your-own-risk night skiing, Blueberry Lake Cross-Country Ski Center features for skiing, skating, or snowshoeing. All trails are engineered and graded for the average skier's ultimate enjoyment and groomed every day.
Mad River Path
4061 Main Street Waitsfield, VT
www.madriverpath.com
An easy, 2 mile trail along the Mad River, this "West Side Loop" section of the Mad River Greenway offers a pleasant alternative to fields and resorts with a forested path meandering along the river with a lovely gazebo with picnic benches set up on the riverbank as a potential end point.
Catamount Trail
www.catamounttrail.org
North America's longest ski trail, Catamount Trail winds its way for 300 miles, from Readsboro on the Massachusetts border to North Troy on the Canadian border – and passing right through the Mad River Valley: section 18, from Lincoln Gap to Route 17, passes right by West Hill House B&B! Catamount Trail offers a variety of terrain for a wide-range of skiers. Visit the site linked above for more information and a comprehensive map of entry points and features along its length.
Mad River Valley Skiing Lodging Packages
If you've a plan to enjoy some Mad River Valley cross country skiing – and you should – be sure to take advantage of West Hill House B&B's Ski and Stay Passports!
Our Ski and Stay Passports offer you inclusive, multi-day packages that combine lodging at out Mad River Valley bed and breakfast with two Ski Passports per room per day for skiing at Mad River Glen, Sugarbush and Olé's Cross-Country.
Read more about this great offer here: Ski and Stay Passports and we'll see you soon!