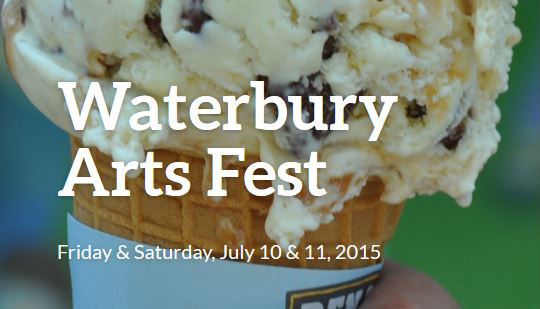 Every July, for the past fourteen years, Waterbury, Vermont transforms from a quiet, little Vermont village into a rollicking outdoor art gallery and street fair called the Waterbury Arts Fest – this year it's the weekend of July 10th and 11th, 2015, the perfect way to relax before running the Mad Marathon on Sunday, July 12th!
Waterbury Arts Fest is a popular summertime event that draws more than 3,500 art enthusiasts to the Mad River Valley to enjoy two full days of over 80 artist exhibitors offering things like framed original art prints, handmade clothing and accessories, metal crafted art jewelry, quilted items, hand-dyed silk, fused glass art, handmade stoneware and pottery, all natural body care products, and just about anything else you can think of (plus a few you couldn't).

But that's not all – the Waterbury Arts Fest also features live music, drink, dancing, fantastic gourmet food, and a raffle at the Waterbury Block Party!
Friday, July 10th – 2015 Waterbury Block Party Schedule
(be sure to bring your ID if you plan to enjoy any libations in the beer garden)
5:30pm – Gates, Beer Garden, and Food Trucks open – 50/50 Raffle tickets go on sale.
5:30-6pm – Sadie Bolger – Local singer and song writer.
6-7:30pm – Hot Box Honey – Swing, funk, jazz, latin, hip hop, soul, reggae, and blues led by vocalist Jane Evans and guitarist Gregory Evans.
7:30pm – 50/50 Raffle Drawing! Proceeds go to Revitalizing Waterbury.
7:45pm–9:30pm – Kat Wright and the Indomitable Soul Band – gritty yet emotive soul vocals with a seven-piece back-up. Hot!
10pm – Gates close.
Parking in Waterbury during the Waterbury Arts Fest can be … daunting – but don't give up! Parking will be available in two public lots in Waterbury, at the upper and lower Thatcher Brook Primary School parking lots, and here and there on the streets of downtown. Yellow "PARKING HERE" signs will help you to find appropriate places to ditch your vehicle and the Waterbury Arts Fest has a parking map pdf you can download.
It would be remiss of us not mention that, as a fan of the arts, you'll probably want to stop in at the Green Mountain Watercolor Exhibition at the Big Red Barn Gallery in Waitsfield on your way to Waterbury. Fun's a-poppin' all over the Mad River Valley this time of year!
Waterbury Arts Fest 2015
Friday, July 10th, 5pm – 10pm
Saturday, July 11th, 10am – 4pm
Downtown Waterbury on Stowe Street and Bidwell Lane
For a full schedule and list of vendors please visit the official Waterbury Arts Fest site: www.waterburyartsfest.com
Waterbury Arts Fest Lodging
West Hill House B&B offers nine certified "Green Hotel" guest rooms, all nestled on a quiet country lane, yet with skiing, golf, shopping, and more right at your fingertips. Whenever you're in the Mad River Valley and looking for a place to call home base, choosing a stay at West Hill House B&B is always your wisest choice.