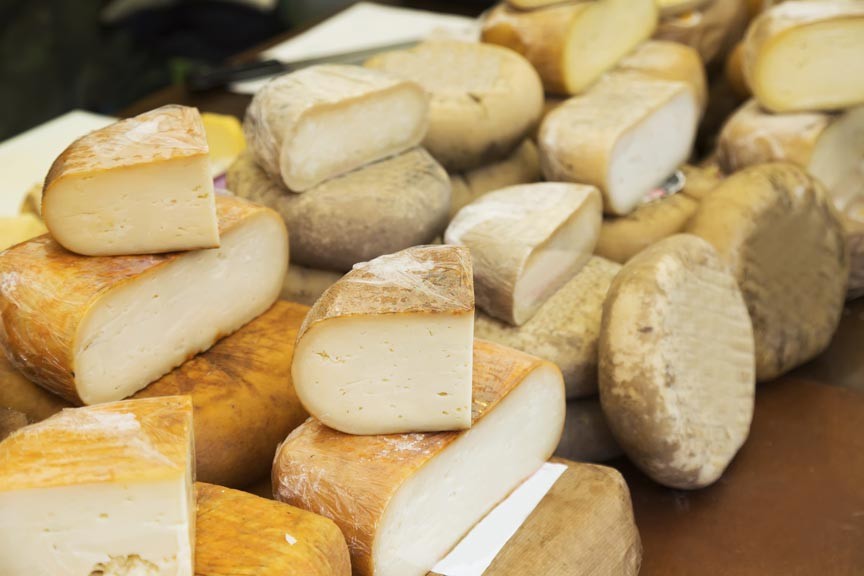 The Vermont Cheese Trail stretches from New York to New Hampshire, from Rhode Island to Quebec, and all points in between. Curd lovers visiting Vermont's Mad River Valley can get in on the fun, too!
The farm-to-table movement may be one of the most exciting (and delicious) dining trends we've seen in a long time. The emphasis on fresh, locally harvested and crafted foods is a good thing, no matter how you serve it up.
Regional craft cheeses have long been a "thing" but public awareness of them is growing and with it, cheese tourism. We here at West Hill House B&B not only understand, we thoroughly agree! Part of what makes life so worth living is good food – and cheese is one of the most amazing and delightful foods there is!
It is with these facts in mind that we put together this short list of cheesemakers along the Vermont Cheese Trail that are near our Mad River Valley bed and breakfast. Now, should you so desire to visit a dairy farm or farmer's market in search of some yummy, local cheeses, you'll be able to find your … whey (sorry – I couldn't resist).
Vermont Cheese Trail in the Mad River Valley
Three Shepherds Farm
108 Roxbury Gap Rd, Warren, VT 05674
802-496-3998 – www.threeshepherdscheese.com
Open: Sun, Mon, Fri 10am-4pm
Three Shepherds Farm produces artisanal cheeses made from cow or sheep milk, and aged in straw-bale cheese caves. Their cheese can be found at the Waitsfield Farmers Market. Three Shepherds Farm offers cheesemaking classes and tours. If you hope to visit, please call ahead.
von Trapp Farmstead
www.vontrappfarmstead.com
von Trapp Farmstead has been making organic artisan cheeses at their family dairy farm in Waitsfield, Vermont since 2009. They use organic pasteurized cows milk to produce a variety of cheeses, including Oma, Mt. Alice Camembert-style, the Alpine style Savage, and Mad River Blue cheese. Not open to visitors, their cheeses can be found at Mehurons Market in Waitsfield Square, The Warren Store here in Warren, the East Warren Community Market in East Warren, as well as the Waitsfield Farmer's Market.
Midnight Goat Farm
9613 Main Rd, Huntington, VT 05462
802-882-1952 – midnightgoatfarm.com
Open to the public 11am – 4pm
A very small, family-run Grade A Goat Dairy and Creamery producing micro-batches of handcrafted, artisan cheeses made from the delicious, raw milk of their pasture-fed, hand-milked, Alpine goats. Cheese is available for purchase at the farm or in Beaudry's Store in Huntington. Tours are available but please call ahead.
Cabot Creamery Cooperative
193 Home Farm Way, Waitsfield, VT 05673
802-496-1200 – www.cabotcheese.coop
Open daily 9am to 6pm
A cooperative of 1,200 dairy farms, Cabot Creamery Cooperative produces a wide array of award-winning cheeses and other dairy products in both Cabot and Middlebury, Vermont as well as Chateaugay, NY.
And that's our little neck of the Vermont Cheese Trail! For more information on the Vermont Cheese Trail, you can find the full list online, at:
www.vtcheese.com
Mad River Valley Lodging
West Hill House B&B, located on a quiet country lane in Warren, VT is the perfect choice for your Mad River Valley vacation. Our nine, individually decorated guest rooms will have you waking up fresh, rested, and ready for the day – which begins with our delicious, homemade breakfasts! Let us help you make the most of your Mad River Valley getaway – stay at West Hill House B&B!