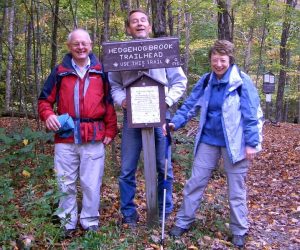 2016 is the 100th anniversary of the founding of the National Park Service and this summer West Hill House B&B and Vermont based 'Wonder Walks' are taking to heart the challenge given by the US National Park Service to help you explore Vermont's Green Mountains. Did you know that the US National Parks originated with the advocacy of Scotsman John Muir?
In our state we are fortunate to have the Green Mountain National Forest, and to honor this anniversary we encourage guests to discover and explore the magnificent mountains, forests, waterfalls and trails in our own backyard, including the famed Long Trail. Bruce Acciavatti* owner of 'Wonder Walks' and experienced guide will personally guide you on a customized Green Mountain discovery adventure.
We shall be happy to customize two, three or four day hiking packages for you. Some details:
Accommodations each night will be at our award winning West Hill House B&B in Warren.
Packed lunches will be provided.
Bruce will meet and guide you each day.
A typical package is $949 per couple* inclusive of your guide, transportation to and from the trailhead, packed lunches and of course bed and breakfast.
* Just an example – this price includes three week-nights of B&B in one of our queen rooms and two full days of guided hiking.
Bruce will discuss adventure choices with you after you book, based on your hiking experience and the time of year. Your hikes may include one or more of these hikes each day and may be weather dependent. While the mileage may seem short, remember this is mountain hiking not sidewalk walking!
Hike Long Trail from App Gap south to Starks Nest for nice views – 6.2 miles
Hike Hedgehog Brook Trail to Long Trail and north to Burnt Rock Mtn for nice views – 5.2 miles
Hike Long Trail north from App Gap to Molly Stark's Balcony for nice view of Camel's Hump – 2.6 miles
Hike Long Trail south from Lincoln Gap to Sunset Rock for nice views of Champlain Valley – 2.2 miles
Hike Long Trail north from Lincoln Gap to Mt. Abraham for great 360 views – 5.2 miles
Hike Liberty Hill Rochester/Pittsfield walk – nice views, historic sites and woods – 5 miles
Call us at 802-496-7162 and let us  help you discover what's in our backyard! (Subject to availability—and usually best to plan several weeks ahead.)
* Bruce Acciavatti has been providing guided and self-guided hiking trips for over 20 years in Vermont, throughout the Northeast, North Carolina, the Big Island of Hawaii, and other areas. He'll show you those special out-of-the-way places and vistas, and provide you with memorable experience.