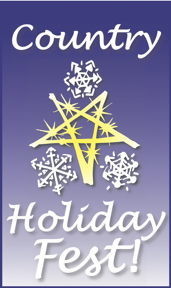 The 18th annual Vermont Country Christmas, renamed "Country Holiday Fest" because Hanukkah starts on Christmas day this year, is scheduled for December 2nd through the 4th, 2016.
The name change isn't the only difference. This year the Country Holiday Fest is being sponsored by Valley Arts, and they've added some new attractions to the event, as well. Despite these updates, this popular annual celebration of the season promises similar attractions and the same festive air as prior years.
The three-day event includes the Great Winter Paint-In, a book signing, craft vendors, oxen rides, and so much more!
It all starts at 5pm on the evening of December 2nd with a First Friday reception at Three Mountain Cafe. There is also and a book signing at The Collection that same evening with John Churchman. The Great Winter Paint-In kicks off at this time, too, and runs all weekend.
What's the Great Winter Paint-In?
The Great Winter Paint-In is an indoor variation of the Great Vermont Plein Air Paint-Out that takes place each August.  The event is a "Paint-In" because "en plein air" may be just too "plein" cold this time of year!
What the Great Winter Paint-In involves is various artists, hither and thither about the event, painting away at what they see – maybe even you! Their resulting work will be available to see and potentially purchase at the resulting Great Winter Paint-In Art Exhibit and Sale.
Of course, everyone's mind hovers around gift-giving this time of year. Country Holiday Fest provides nothing if not ample opportunities for shopping. Participating shops in Waitsfield, Warren, and Moretown will be offering great deals. They'll also be competing for prizes with their holiday decorations, so you know it'll be festive! decorated for the season and . Avoid the crowds at the big box stores and enjoy perusing the often harder to find or one-of-a-kind offerings from our smaller, locally owned shops.
Along with great deals on fine and unique gifts, you'll also be given a chance to win prizes with your Holiday Punch Card. Collect your punch card at a participating shop, then get it punched at each participating merchant you visit. Five punches or more means you qualify to enter your card for the annual prize drawing. Fun!
Saturday will feature games for the kiddies, oxen rides, food, music, and more at Bridge Street. Sunday will see snowman building, craft vendors, Santa, a candy shop and more on the Mad River Green. Come on out!
Vermont Country Holiday Fest 2016
December 2nd through the 4th, 2016
Waitsfield, Warren, and Moretown, VT
For more details as they are announced, be sure to visit: valleyartsvt.com
Vermont Country Holiday Fest Lodging
Whenever you're in Vermont's Mad River Valey, let West Hill House B&B be your home away from home! We're close to all the action yet remote enough to offer all the boons of a quiet, countryside getaway. Come relax and let us worry about all the details.
Book your two or more nights with us for that weekend by November 18th and we will update your booking to give you a 25% discount.