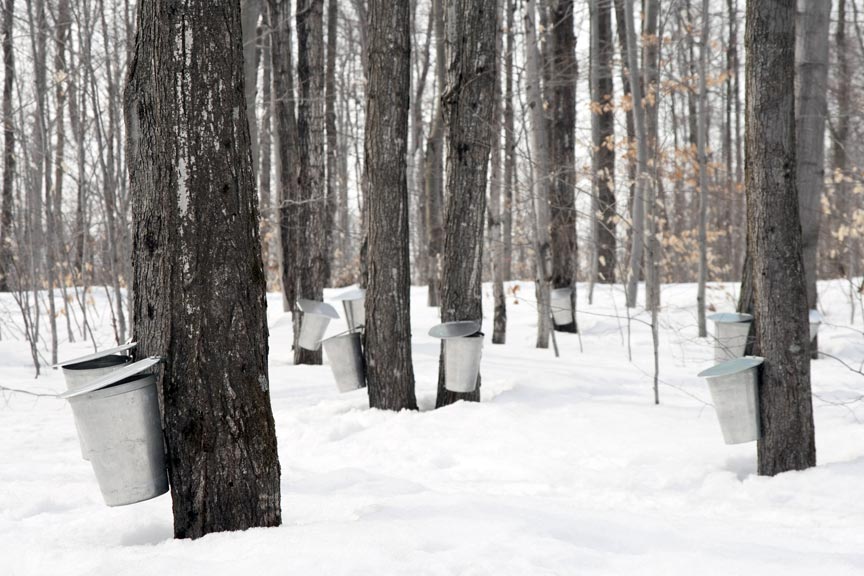 Come celebrate maple sugaring time in the Mad River Valley during Vermont Maple Open House Weekend 2018! You'll visit local sugarhouses, see the process, and enjoy samples of fresh made, pure, Vermont maple syrup. March 24th and 25th, 2018.
Maple syrup is made from the sap of sugar maples and a grove of sugar maples is often referred to as a sugarbush. Taps are driven into the trees, and buckets hung from them, to catch the dripping sap. The collected sap is then boiled down at a sugarhouse until all that's left is sweet, pure maple syrup. It takes 40 gallons of maple sap (150 liters) to produce one gallon of syrup!
Vermont is known for its delicious maple syrup – as well we should be. There are maple syrup producers, big and small, all across Vermont, with our state supplying 40% of the nation's maple syrup! Consequently, we get pretty fired up during the months of February and April, when maple sugaring time arrives.
Vermont Maple Sugar Makers sponsor a state-wide event each year in celebration of the season: Vermont Maple Open House Weekend!
During Vermont Maple Open House Weekend, participating sugarmakers open their sugarhouses for tours, samples, and often much more. Most sugarhouses are independently owned, so each experience will be different. You may be offered pancake breakfasts, live music, scavenger hunts, and a potential host of maple goodies. Maple taffy, maple doughnuts, maple ice-cream … oh, you're in for a treat!
Vermont Maple Open House Weekend 2018
– Participating Warren-area Sugarhouses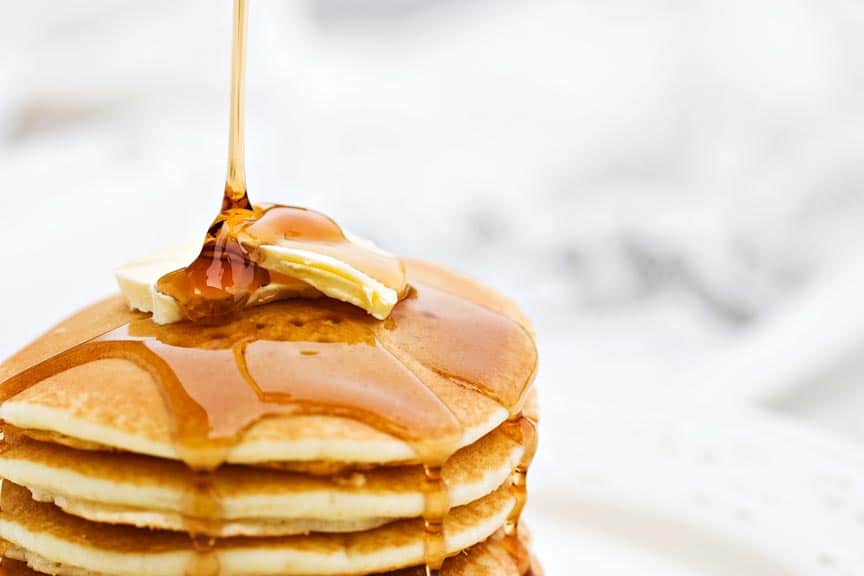 The Gateway Farm
506 North 116 Rd., Bristol, VT 05443
Mountainside Maple
7926 Main Road, Huntington, VT 05462
Red Rock Valley Maple Farm
160 Sugarhouse Ln, Starksboro, VT 05487
Solar Sweet Maple Farm
313 Guthrie Road, Lincoln, VT 05443
Festivals and celebrations of all kinds occur across the state during maple sugaring time. Many local farms and communities have their own traditions. That's certainly true here in the Mad River Valley.
The aptly named Sugarbush Resort hosts a Sugaring Time Festival each year, with this year's do scheduled for March 17th. The event occurs on the resort grounds, here in Warren, and includes contests, drawings, maple treats, and live music. You can learn more online the Sugarbush Resort site.
We also recommend a visit to a couple of our favorite, Warren area sugarhouses.
Hartshorn Organic Farm, at 54 Quarry Road, in Waitsfield, often hosts the Mad River Valley Maple Festival. Their farm stand is an excellent place to shop for local, organic goods.
West Hill Sugar Orchard, at 1512 Golf Course Road, here in Warren, is just a short walk from West Hill House B&B. This small scale, local operation is community supported and uses traditional, wood-fired, maple sugaring techniques.
If you enjoy maple syrup during your stay at our Mad River Valley B&B, you can bet it is from either Hartshorn Organic Farm or West Hill Sugar Orchard. We highly recommend a visit during maple sugaring season!
Vermont Maple Open House Weekend 2018
March 24th and 25th in 2018
Visit vermontmaple.org for a map of all participating Vermont sugarhouses.
Vermont Maple Open House Weekend Lodging
When it comes to Mad River Valley lodging, you need look no further than West Hill House B&B! West Hill House B&B is located on a quiet country lane in Warren, VT, just one mile from Sugarbush, in the Green Mountains of Vermont. Book your stay today!