December 14, 2015 by Corey A. Edwards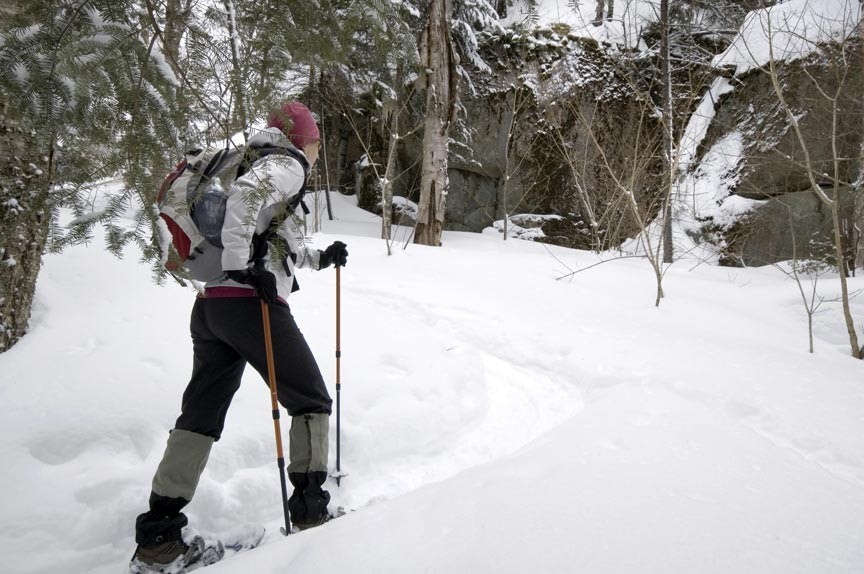 Vermont's Mad River Valley is known for its skiing – Mad River Glen, Sugarbush, Olé's Cross Country, Blueberry Lake, we've got the best – but snowshoeing Mad River Valley is also a popular winter pastime.
Snowshoeing popularity is on the rise, with light, modern, aluminum and carbon fiber snowshoes designed to not just walk atop the snow with more ease than the old, wood and cat-gut kind, but to even run across it! Snowshoeing has come a long way …
And so, too, might you! People come from all over to enjoy the kind of skiing and snowshoeing Mad River Valley offers. Most of our ski resorts offer snowshoeing trails along with skiing and snowboarding, often snowshoeing gear rentals as well.
Read the rest of this page »
January 31, 2015 by Corey A. Edwards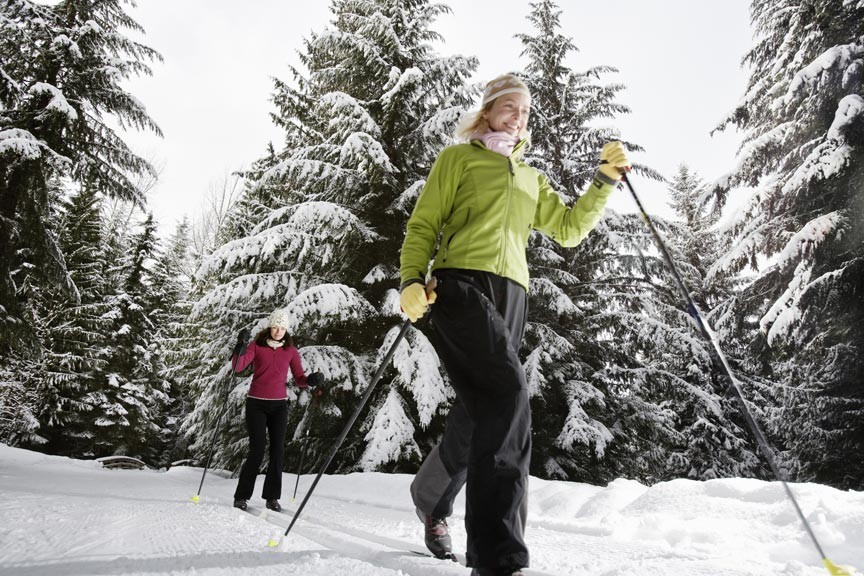 When old man winter blows his snows, the only thing to do is grab your hat and mittens and head out into it and enjoy it while it lasts. Vermont is a winter-sports wonderland and the Mad River Valley cross country skiing options are excellent!
Take a look:
Ole's Cross Country Ski Center
2355 Airport Road, Warren, VT
www.olesxc.com
Ole's Cross Country Center offers some of the best Mad River Valley cross country skiing and snowshoeing. With 30 miles of moderately rolling groomed trails, skiers of all abilities can comfortably ski and enjoy both panoramic views and the rare quiet of the deep woods.
Read the rest of this page »
March 18, 2013 by Katie Pate
The spring equinox is only two days away. Soon, the snow will melt and spring will reveal green buds on the trees, blooming flowers and sunny days. But not yet…
Get your fix of your favorite winter sports before its too late!
You don't have to drive anywhere to nordic ski if you are staying at West Hill House. Our Inn is located across the street from the Sugarbush golf course. If you rise early after a snowfall, you can blaze your own trail. A little later in the day you can undoubtedly follow a trail forged by someone else.
Mad River Valley Cross Country Skiing Centers
Ole's (2355 Airport Road – 15 minutes from the Bed and Breakfast) As of this posting, there are four inches of fresh snow, a combo of silky packed powder and loose powder, on the ground at Ole's. It's 17 degrees and beams of gleaming sunlight are breaking through low clouds, illuminating the fresh snow. At least 20k of trails are groomed and tracked for both for classic and skate skiing.
Blueberry Lake (424 Plunkton Rd – 10 minutes from the Bed and Breakfast) Blueberry Lake received 3 inches of fresh snow last night and the temperature is slightly warmer at 23 degrees. They have 11 trails, totaling 30 km for classic, skate skiing and snowshoeing. There are trails for both beginners and advanced skiers. Many of their trails are wooded, with the occasional overlook to wide open meadows with beautiful views.
The Catamount Trail: This is not a ski center but an unmanned ski trail that runs the length of Vermont. It is 300 miles long and has been in the making since 1984; it was fully linked together in 2008. Thousands of skiers and snowshoers take to the trail every winter season — most only spend a day on a section of the trail. However, some ambitious adventurers ski end-to-end. What you are sure to enjoy about the Catamount Trail is the pristine backcountry, farmland and village surroundings along the way. The Catamount trail passes directly behind our B&B.