May 11, 2009 by Peter MacLaren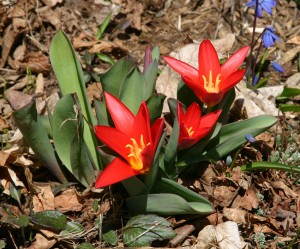 The gardens at West Hill House are starting to show the colors of spring! We are always amazed at this time of year when our beautiful gardens start to emerge from their winter sleep.  The buds are on the old apple trees, the leaves unfurl on the maples,  the flowers are blooming,  and the chipmunks which scurry over and around the boulders in the garden are driving our adorable indoor cats, Smoky and Snowball, absolutely nuts! The crocuses were the first to brave the early spring poking their blooms through the snowy blanket which still lay on the ground. These  gorgeous miniature tulips were the next flowers, spied by a guest one bright sunny morning, and flashes of yellow daffodils can be seen scattered throughout the gardens.
Our landscape artist, Patty,  and her crew keep our extensive B&B  gardens in tip top form for our guests to enjoy. Whether you are an avid gardener, like Patty, or just love the look of beautiful flowers, as I do,  our  peaceful gardens are decked out nature's palette and await your arrival. Spring has sprung in the Green Mountains of Vermont!