December 15, 2014 by Susan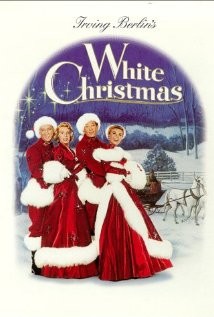 Dreaming of a White Christmas but live where there isn't any snow? Stop dreaming and come live your dream. Come to Vermont!
The movie White Christmas is indeed a classic and a must see Christmas movie in our family and perhaps yours too. The holidays are not complete without a visit, via DVD, to the the Columbia Inn in Pine Tree, Vermont.
Starring Bing Crosby and Danny Kaye as successful broadway producers, and Rosemary Clooney and Vera-Ellen as a sister, singing act, a twist of fate brings the foursome to The Columbia Inn in Pine Tree, in late December. Dreaming of a white Christmas and that "Vermont should be beautiful this time of year, all that snow" the four arrive and find, to their great disappointment, that there is no snow at all. The sisters find, with few registered guests, their singing contract is to be cancelled. Meanwhile, the two men discover that the innkeeper is their former commanding general.
Despite the lack of guests and the challenge of the weather, the four decide to stay and the story develops as a light-hearted romance suitable for family viewing. With songs sung by Crosby and Clooney and beautiful dancing by Vera-Ellen and Kaye, the movie is a good way to spend a winter evening.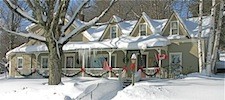 While there is no Columbia Inn, there is West Hill House B&B in Warren, Vermont, a place to enjoy a white Christmas and winter in all its glory.
We can predict with some degree of certainty that we will have a white Christmas and we most certainly have a copy of the movie for you to watch!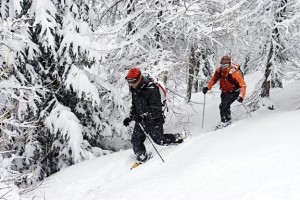 Skiing at  Mad River Glen  and Sugarbush will be in full swing with people from around the world enjoying the opportunity to ski some of New England's best slopes. On the Sugarbush golf course just behind our Handsome Red Barn, is a perfect hill for sledding on one of the Mad River Rocket Sleds created here in Warren. If your pace is slower, there are miles of cross-country skiing at Olé's and  Blueberry Lake only 10 minutes from West Hill House B&B. If skiing isn't for you, our snowshoes are perfect for exploring around our property or farther afield.
If you're not an outdoors type or your skiing days are past, there are numerous artisan shops, small stores and coffee shops to visit but that will have to wait for another blog.
If  a white Christmas to you means looking at snow through a window,  how about curling up in a big chair by the fireplace and losing yourself in a good book, or playing a board game with your special someone.
If you are dreaming of a white Christmas look no further than Vermont in winter. Winter in its natural state!
March 16, 2012 by Peter MacLaren
Winter gives way to an early spring
Mountainside snow melts in the warm sun
The ground begins to thaw as we enter mud season
Crocuses, tulips, and irises poke their heads through the soil
Inside West Hill House B&B Smoky demos cat yoga and enjoys a relaxing nap.
Come join Smoky and Snowball, choose your own chair of course, and chill out.
For new bookings made after March 27th for between then and April 26th we are offering these two special deals:
Stay two nights and have the third night on the house! A 33% discount.
Stay one night and get the 2nd night at half price! A 25% discount.
These discounts are not available on-line. Please call us to book.
(may not be combined with other discounts)
February 25, 2012 by Peter MacLaren
Come play in the snow! We finally got some significant snow so now it's time to book your Sugarbush or Mad River Glen ski vacation.
In the past 24 hours we have received 12″ of snow, most of it coming since about 11 AM  on Saturday.
Today's guests report that the mountains are in superb shape and the snowy scenery is stunning.
At the B&B our fences are all snowcapped and even the front porch rockers received a snowy blanket.
We're looking forward to your visit. Check our Ski and Stay specials!
October 27, 2011 by Peter MacLaren
OK everyone… IT'S SNOWING HERE TODAY! 
Time to think about getting those skis tuned up and making those ski holiday reservations.
Vermont photographer, "Snowflake" Bentley, was the first person to photograph snowflakes. Check out the website dedicated to his works.
Also check out our skiing specials.
November 25, 2010 by Peter MacLaren
Sugarbush opens today, November 25th, with a few runs, and both it and Mad River Glen will be fully open by early December.
The Mad River Valley, encompassing the picturesque towns of Warren and Waitsfield, is the perfect place to ski in the North East. We have three amazing ski hills, Lincoln Peak and Mt Ellen at Sugarbush, and Mad River Glen. The two high speed quads at the base of each of the Sugarbush hills mean short lines even on busy days, and at Mad River Glen – while you may have to wait a bit longer on weekends and holidays – you get to ride the legendary single chair and enjoy skier only slopes. (There's lots of variety at Sugarbush for riders.) Plus we have great cross country skiing, including right outside our door on the golf course, as well as two extensive networks of groomed trails nearby.
And there's more. We are privileged to offer a wide selection of excellent owner-operated restaurants here in the valley. No chains, no franchises, no fast food. One of our favorites is Mint, a boutique vegetarian restaurant that even meat eaters will love. Then there is The Hyde Away with a wide menu selection of good value home cooking open 7 nights a week. The Terra Rossa Ristorante will more than satisfy lovers of Italian food, and you can watch pizzas being cooked in front of you in the classic brick oven. Then of course there is The American Flatbread, the mecca of taking pizza to another level, which is so popular you almost always have to line up to eat there, but it's always worth it. Our overall favorite? The Common Man where you will always enjoy great food, great service and a unique atmosphere.
For non-skiers, our Artisans, anchored by the beautiful Artisans' Gallery in Waitsfield, are almost always open during the day and welcome your visits, we have Vermont classics to visit like Ben & Jerry's and Cabot Cheese, and to relax we can arrange a soothing massage at Mad River Massage.
If you've never been here, you are missing out! If you have, it's time to come back. Call us and we'll help you plan your visit, tell you about specials, and get you booked into the top rated B&B in the area (guess where!). Ask us about the newly opened Logan's Loft in the barn for a one-week stay.
See you soon!
March 17, 2010 by Peter MacLaren
As spring approaches, there is no better time to head to Sugarbush. The skiing is still great, and there are lots of special spring activities including barbeques, local bands, and ton of events. March is looking so good — you'd BETTER BE HERE! (Photo from Sugarbush website – click to link.)
Don't miss out on any of these March Madness events:
•  "Broadway Rocks II" Cabaret – Friday, March 19
•  Sugaring Time Festival – Saturday, March 20
•  43rd Annual Pond Skimming – Saturday, March 27
•  12th Annual Spring Mogul Competition – Sunday, March 28
•  Hot Dog Race – Sunday, March 28
•  32nd Annual Sugarbush Adventure Games – Saturday and Sunday, April 10-11
Click here for the complete events calendar, which also includes the latest event videos.
And of course we have our special spring prices in effect here at West HIll House.
So come and check it all out! Operators are standing by! (A.k.a Peter & Susan)
February 24, 2010 by Peter MacLaren
February 24, 2010 by Peter MacLaren
"Yabba-Dabba-Dooooooooooo!" 12-16 inches of NEW SNOW since yesterday morning and it is still snowing and snowing hard. No kidding, Vermont  is really beautiful this time of year! It looks like this will be THE weekend to come to the Mad River Valley and ski Mad River Glen, Sugarbush or do some cross country or snowshoeing at Ole's or Blueberry Lake. Of course West Hill House is a great place to stay – we're just a short distance from each of the ski areas. Come enjoy winter with us.