Only one special package is being offered for a wedding with just the two of you on the special date of 12-13-14 (for the numerically challenged that's December 13, 2014). 
It has now been booked! However our normal wedding and elopement packages are available for other dates.
All of the following are included: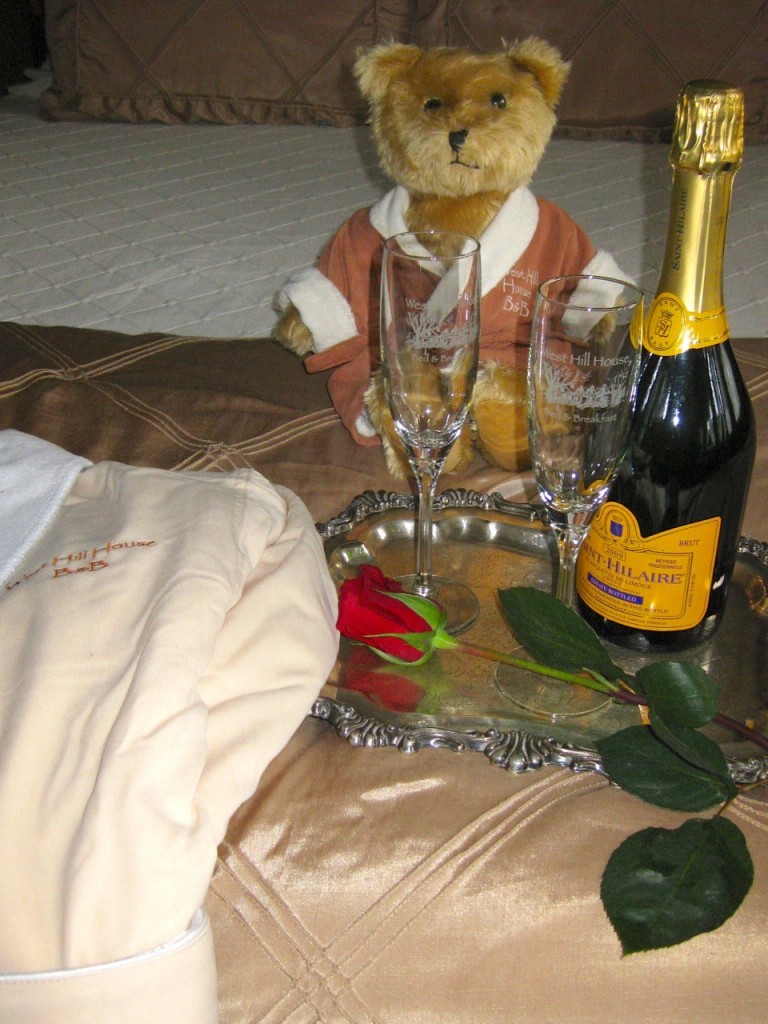 An excellent Justice of the Peace who will officiate at your wedding ceremony and contact you ahead of time to work with you to personalize your ceremony

Digital photographs of your ceremony and a CD of your photos

A wedding cake

A bottle of sparkling wine or sparkling pear or apple juice

Seasonal flowers as bouquets or boutonnieres

Two signature West Hill House B&B coffee mugs

Two West Hill House B&B keepsake Champagne flutes

Two nights of accommodation in the Paris Suite

Two luxurious West Hill House B&B "Doe Skin" robes

One Ted E. Bear complete with matching robe

Dinner for two on Saturday at either excellent restaurant: The Common Man or 275 Main at the Pitcher Inn
This great package is offered for $1516.17 plus 9% tax. Call us at (802) 496-7162 to book.
The Small Print: This offer is only good for a wedding to be held at 1:00PM on December 13, 2014. No change of time or date will be considered. A $500 non-refundable, non-transferable deposit for this special wedding package is required at the time of booking. Note that the deposit does not entitle the couple to any of the offerings should the wedding be cancelled. 
November 29, 2012 by Susan
With early season snowflakes whirling about them, and the temperature sitting at about 28°F, Ryan and Jeff were married in the meadow at West Hill House B&B. Our favorite Justice of the Peace, Greg Trulson officiated at the wedding making it a very meaningful occasion, as he always does. Following the ceremony,  the newly married couple asked Peter to continue taking photos as they enjoyed a short stroll around our wintery gardens.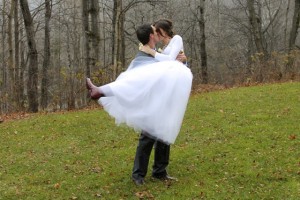 Warming up by the fireplace a few minutes later Ryan and Jeff enjoyed an intimate wedding reception complete with wedding cake, made here at West Hill House, and a bottle of  Champagne. They were kind enough to invite Greg and Peter and Susan to join them.
Ryan loves experimenting with recipes. Check out her food blog called Skinny Supper. It's a fun site with lots of photos to help you along.
April 20, 2011 by Peter MacLaren
Your wedding should be a very special day which expresses your style and personality, even if you are working with a small wedding budget. Small weddings are the trend these days as couples are opting for a more personal occasion with just family and close friends. Small and intimate weddings provide an opportunity for the couple to visit with each guest, to relax and enjoy the occasion, to really put their personal touches on the celebration, and for the families to get to know each other in a comfortable setting. To say nothing of saving money to put towards a wonderful honeymoon, a house down-payment or even towards paying off student loans.
If you have an intimate wedding in mind why not consider a B&B venue? Such a location can provide a dramatic backdrop for your own special touches. Whether an elegant country estate, an urban city-scape, or like ours, a mountain setting with meadows, gazebo, handsome red barn, ponds and gardens, there is a B&B sure to suit your taste.
You can have the memorable, intimate wedding of your dreams with memories to last a life time, without breaking the bank. Small is beautiful!
At West Hill House B&B we work with highly qualified, local wedding professionals to help you plan a stress free occasion. We have facilities for weddings from 2 to 80 people and we still have a few June and July 2011 dates available for wedding bookings. We pride ourselves in providing you and your guests with personal attention and excellent service, all in a restful country setting near Sugarbush in the beautiful Green Mountains of Vermont.
December 4, 2010 by Peter MacLaren
Wedding planning means attending to a myriad details: choosing invitations, the perfect dress, bridesmaids dresses, rings, honeymoon location, guest list, venue, caterer, menu … the list is long and may seem overwhelming. TV programs feature big budget destination weddings with all the trimmings- beautiful beaches, glitzy hotel ball rooms, lavish country clubs.  
With the tight economic times many couples are planning weddings ranging from elopements with Just-the-Two-of-Us to small wedding with often no more than 30 family members and friends. Small intimate destination weddings planned on a carefully managed budget and can be just a beautiful and just as memorable. Whether you invite 5, 50 or 250, chances are you can find a B&B that is just right for you.
You may be surprised to learn that many smaller towns have a good number of highly skilled wedding professionals who will help you plan your perfect day. In the Mad River Valley for example we have internationally renowned photographers, award winning florists, amazing chefs and caterers using local ingredients with exceeding flair, skilled hairdressers and make up artists, excellent musicians, and numerous B&Bs whose owners offer a range of wedding package.
Like many B&B owners, here at West Hill House we are happy to help you plan and co-ordinate all your local wedding needs. Our wedding couples appreciate the fact that we take a personal interest in their wedding plans, no cookie cutter weddings here! We were delighted to help Steve and Skott plan their October wedding which took place under our beautiful maple trees and was attended by 20 family and friends.
Whatever your budget, what ever your venue, what every your guest count,  your wedding is one of the most important days of your life and requires a good deal of planning. At West Hill House we love to host small intimate, budget friendly weddings with up to 80 guests. We know our local wedding professionals as friends and neighbors and would be delighted to help plan your wedding so you may have memories to last a life time.