February 25, 2012 by Peter MacLaren
Come play in the snow! We finally got some significant snow so now it's time to book your Sugarbush or Mad River Glen ski vacation.
In the past 24 hours we have received 12″ of snow, most of it coming since about 11 AM  on Saturday.
Today's guests report that the mountains are in superb shape and the snowy scenery is stunning.
At the B&B our fences are all snowcapped and even the front porch rockers received a snowy blanket.
We're looking forward to your visit. Check our Ski and Stay specials!
February 5, 2012 by Peter MacLaren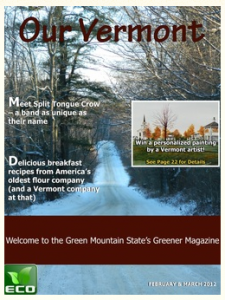 Our Vermont,  is the new Green Mountain State's Greener Magazine, and features articles about people, places, events, food, and local flavor offered in the great state of Vermont. Not only is this a paperless magazine, and you can subscribe for free on line, but they chose a 100% wind powered company to do their hosting.
Lucky us, West Hill House B&B has a featured ad in the magazine's inaugural edition. Check us out on page 2-3, the full-screen option, and accept our invitation to come to Vermont to sample the wonders of our amazing state. West Hill House is a 'Green Hotel in the Green Mountain State'. We offer Ski & Stay Packages. If you and your sweetie need a little pampering check out our Valentine's Day special. Perhaps a proposal is in your future …let us help you make that a memorable event.
West Hill House B&B is where you'll want to B&B.
December 12, 2011 by Peter MacLaren
This past summer we were delighted to get to know Martina and Tanja, university students from Macedonia. While they were here I purchased a jar of Ajver for them. I had no real idea of what it tasted like but it looked good and I wanted to give them a small taste of home while they were so far away. The four of us sat around the table and enjoyed this tasty treat along with hearty bread and cheese while the two girls told us of how Ajver is made and how in the fall, the wonderful aroma of roasting red peppers wafts through the villages.
Having some red peppers on hand, I looked up Ajver recipes on line, chose one and yesterday made some beautiful looking Ajver. While it looked right, it lacked that special taste. Martina and Tanja, what's the magic ingredient? Help!
December 8, 2011 by Peter MacLaren
Stirring it up! Special baked goods play a key role in many of the winter holidays whether it be Christmas, Chanukka, Pancha Ganapati, Kwanzaa, Chinese New Year or any  number of others celebrations. Here's a yummy recipe for cookies to help us encourage winter, Pecan Snowballs.
Ingredients:
2 c. pecans
1 c. butter, softened
1/4 c. icing sugar
2 c. all-purpose flour
1/2 t. salt
1 1/2t. vanilla
1 c. icing sugar (for rolling cookies in)
Preparation:
On a baking sheet, bake the pecans at 350° for 7 to 9 minutes, or until fragrant, stirring once. Let cool then chop finely and set aside.
In a large bowl, cream butter with sugar until smooth.
Beat in vanilla.
With a wooden spoon, stir in flour, salt and pecans using your (clean!) hands to finish the mixing and to form the dough into a mound.
Wrap in plastic wrap, cover and refrigerate for 30 minutes.
Form dough into 1 inch balls and place 1 inch apart on an ungreased baking sheet.
Bake at 325° for 18 – 20 minutes or until lightly golden.
Remove to racks and let cool for 5 minutes.
Using the 1 cup of icing sugar, roll baked cookie balls in icing sugar then return to rack to cool completely.
Roll once again in icing sugar.
Snowballs can be stored in an airtight container for up to one week or frozen for up to 3 months.
Makes about 40.
Dishing it out! My first Christmas in Texas, my friend Jacquie invited me to a cookie exchange at her home. While I can't remember the exact number of guests, I believe were each to make 5 dozen cookies of the same recipe, bring them festively wrapped in groups of four,  along with 12 copies of our recipe and a cookie tin for our own collection of cookies. One dozen of the cookies were for refreshments at the party, the others were for sharing,  4 of each variety went into our tins. We visited over glasses of wine and plates of cookies – what a wonderful variety of delights for so little work!. I'm not sure how Jacquie managed to organize it, but after several years there were, I think, upwards of 30 ladies at the cookie exchange. No, we didn't have to make 30 dozen cookies – Jacquie did some mathematical magic and we each went home with a super selection of our friends' baking. Thanks, Jacquie, for your recipe for Pecan Snowballs.
December 3, 2011 by Peter MacLaren
We've found it! The Pot of Gold is in the Mad River Valley!
November brought us 11″ (28cm) of snow for our Thanksgiving Day guests to enjoy and 60°F (15°C) weather a few days later. November also brought us this magnificent rainbow on the 30th. While we can't guarantee you a rainbow or a pot of gold when you visit West Hill House B&B, Sugarbush or Mad River Glen, we can guarantee you beautiful scenery and warm Mad River Valley hospitality.
November 28, 2011 by Peter MacLaren
Picture yourself doing your Christmas shopping and enjoying Christmas music in the quiet serenity of the green mountains of Vermont.
Saturday, December 3 marks the 13th annual Country Christmas Open House in the Mad River Valley. Over 30 local shops and services are offering special discounts which will make your pocketbook happy and may offer free refreshments which will make your tummy happy. Pick up a punch card at any merchants displaying the Participating Merchant sign then visit 5 businesses and have your card punched at each. When you leave your card with the 5th business it will be entered for a prize drawing. Check out the list of participating merchants and services.
On Friday, December 9 The Vermont Symphony Orchestra presents Holiday Pops "Fun and Games"  at the Barre Opera House, just under one hour from West Hill House. Favorite Christmas music with a twist as they take a look at the youthful side of the holiday. Fun for everyone. Tickets required.
Thursday, December 15 the Warren United Church will host the Vermont Symphony's Brass Quintet and Counterpoint for a perfect mix of brass and voices to ring in the season. Free admission although tickets are required.(802-496-9714).
And of course the area also offers skiing and riding at Sugarbush, skiing at Mad River Glen, and cross country skiing at Ole's and Blueberry Lake. Dog sled rides, sledding, skating, and moonlight snowshoe tours are just some of the other ways to enjoy a white Christmas in Vermont – oh and you can also curl up with a warm beverage and watch the movie White Christmas.
October 27, 2011 by Peter MacLaren
OK everyone… IT'S SNOWING HERE TODAY! 
Time to think about getting those skis tuned up and making those ski holiday reservations.
Vermont photographer, "Snowflake" Bentley, was the first person to photograph snowflakes. Check out the website dedicated to his works.
Also check out our skiing specials.
October 18, 2011 by Peter MacLaren
As a special 'Thank You' to US and Canadian, retired and active military, West Hill House joins with many other B&Bs across Canada and the US in offering one free night of accommodation for military personnel on November 10, 2011 in either the Garden Room or the Highland Room (occupancy 2 people per room). We are also offering additional nights at a 50% discount.  Of course our wonderful breakfast is included.
Come relax and enjoy Vermont hospitality in the peaceful surroundings of the the Mad River Valley in the heart of the Green Mountains. Our regular cancellation policies apply and a cc is required to hold the reservation. Proof of status may be requested upon check in.
This 'Thank You' Special is valid for the nights of Nov 9 – 13, 2011. Call to reserve. See you soon.
August 29, 2011 by Peter MacLaren
Well, it has been quite an amazing 24 hours! As with most of you, we were hooked on the weather channel keeping up to date with the progress of Irene. Our trusty garden rain gauge measured 6″ of rain between 8:30 yesterday morning and the same time this morning. We forgot to put the gauge out on Saturday evening when the rain started. The winds were not too extreme so with the exception of a few limbs, all our trees are still with us.
Being on the mountain side, our B&B was certainly not hit as hard as those of you along the coast in the direct path or our friends and neighbors in the lower elevations in the towns of Waitsfield and Warren.
The Mad River Valley did get an enormous amount of flooding. The Mad River lived up to its name. The lovely Pitcher Inn's kitchen and wine bar, Tracks, were flooded with 4′ of water and they are now digging out – literally. Many farmers lost their crops under copious amounts of water–hopefully their animals are all safe. All this after finally getting crops in following huge flooding in May. Lots of roads and bridges are washed out so travel is quite disrupted. Nearby towns including Montpelier, our state capital, were again inundated.
We trust that our guests and friends up and down the eastern seaboard–both in the US and Canada–are safe.
August 9, 2011 by Peter MacLaren
Now a fund raiser for the Mad River Valley Community Fund... Moved to Thursday September 8th at the West Hill House Handsome Red Barn
Traditional Scottish Country Dancing, which runs the gamut from fast and furious to slow and stately, is the norm at Scottish weddings, family reunions and  modern cèilidhs (pronounced kay-lees). Children learn these dances from an early age and many schools, clubs, small towns, and pubs have regular cèilighs where everyone joins in the dancing.
Dances such as the "Gay Gordons",  "Walls of Limerick" and  "The Stack of Barley" are dances which are named after famous regiments, historical battles and every day items. Other dances have more intriguing names such as the "Canadian Barn Dance", "Eightsome Reel", and "The Dashing White Sergeant".
Celebrating the Scottish heritage of the MacLaren family,  Peter encouraged me to join a Scottish Country Dance group in Edmonton shortly after  we were married. Each week we would learn a new dance and enjoy dancing to the ones we previously learned.
The dance lessons have come in handy each January  as dancing is an integral part of any Burns Supper. A Burns Supper is a gathering to celebrate the birth of Scottish poet Robert Burns. An important date to Scots around the world, this event embraces Scottish food, poetry, libations and dance.
To prepare for our upcoming Burns Supper (January 28, 2012) – as well as just for some fun – we are opening our Handsome Red Barn for Scottish Country Dance lessons. We are going to teach very simple dances and we invite you to join us on:
Wednesday evening, September 7th
From 7:00 to 9:00PM
Was $5 per person, now $10 and 100% of the proceeds go to the Mad River Valley Community Fund
Advance tickets required as space is limited.
Come on your own or with a friend.  Refreshments. Wear flat shoes. Other Scottish Country Dance evenings are scheduled through out the year.