August 6, 2011 by Peter MacLaren
Prince William and Katherine did it in London. Prince Albert and Charlene did it in Monaco. And you too can do it …it's not too late to have a summer 2011 wedding at West Hill House!
Whether an elopement with just the two of you or  a small wedding with yourselves and an intimate group of friends, we are here to help you have a stress free wedding and one which won't break the bank.
A beautiful garden to be married in, a handsome barn in which to dine and dance, an inviting bed and breakfast in which to relax, and  a magnificent Vermont setting – what more could you ask for?
Make your dreams come true with a Vermont wedding this summer.  We only need a couple of days to help you get everything organized.
August 2, 2011 by Peter MacLaren
LED light bulbs are the promise of the greener future.  We have for some time used LED bulbs outdoors for low intensity flood-lighting and for light strings to mark our front parking lot and highlight our gazebo, but never for mainstream use as real lightbulbs!
Well it seems times have changed.  GE is now selling the bulb shown here, which looks very like the real thing!  Quite uniquely it spreads light omni-directionally, a real breakthrough for LED bulbs.
So West Hill House burnished our Green Hotel credentials and bought 4 of these yesterday.  (Peter is also Scottish so the deal from Lowe's at only $14 each really swung the decision – most places list it for more than twice that much.)
Given the hype about LEDs you will be surprised that the efficiency is only about 50 lumens per watt, i.e. 450 lumens for the 9W rating of the bulb.  A 14W CFL produces about 900 lumens for about 65 lumens per watt, so contrary to expectations LEDs are still less efficient.
However how about actual results?  We are amazed at the bright white omni-directional light, which gives the impression of more than a 40W incandescent equivalent bulb.  Then there is the 23 year lifetime and no mercury to worry about when they do need discarded.  Plus it looks like a light bulb – not a twisted tube! AND it comes on full brightness instantly.
So maybe not quite the time to plan a wholesale replacement, but viable LED bulbs are definitely on the near horizon!  We'll be pleased to show them to you next time you stay.
July 5, 2011 by Peter MacLaren
A Scott Joplin serenade after breakfast – what a treat!
Jeanne and John, long time friends from Texas, were making a cross country tour in June and stopped in to visit us. Always traveling with this very small trumpet he has often times surprised folks with a musical interlude.
They told the story of being stuck in an airport around Christmas one year, and, as happens in such a situation, found themselves wandering up and down the terminal. They came upon a group singing carols a cappella. They listened for a bit, then, unbeknownst to the singers, John slipped in behind the group, pulled out his trumpet and began to accompany them. Were they surprised!
Thank you for the visit and the wonderful music.
April 23, 2011 by Peter MacLaren
When we moved to Texas from Canada, two new friends, knowing of our Canadian & Scottish backgrounds, offered us tea – cups with water heated (not to boiling) in the microwave and presented with a tea bag on the side. YIKES! My mission from then on was to teach them to make a good cup of tea, properly made! Both new friends, who have since become near and dear, were excellent students and can now make a great cuppa'.
Here are a few basic terms that are useful to know when reading about and making tea.
Tea pot -The vessel from which hot tea is poured. Buy a tea pot if you haven't one. Whether from a simple Brown Betty tea pot or an ornate fine china tea pot, pouring tea from a tea pot makes the experience of having a cuppa' all the more enjoyable. (don't use aluminum though it reacts badly with tea).
This small 2-cup tea pot along with its wee cream and sugar was used for many years by Peter's Granny who lived to be one week short of 100 years old. In the latter years of her life Granny was confined to bed and Peter's mum brought her tea in this little set each morning. Looking as good as new, sadly its tea cup is missing.
Tea kettle – the vessel in which you bring fresh water to a boil. Can be electric or stove top.
Tea cup – A china tea cup or mug are my favourites – but then, I've also drunk tea from a birch bark cup so I'll take tea no matter!
Infuse or Steep – the process of extracting the flavour of the tea from the leaves to the water.
Loose  leaf or Tea bag – Use good quality loose, leaf is best. Most commonly used are tea bags which contain tea dust which is known for it quick extraction. With a myriad kinds of tea, make a visit your local tea shop for advice on what to purchase. (If you are in the Mad River Valley checkout the tea shop and restaurant called MINT- they have about 50 different teas and tisanes.)
Tisane–Though prepared in the same manner as tea, tisane is a combination of dried flowers, herbs and fruit and does not contain tea leaves.
One-for-the-pot – This refers to how much loose leaf or how many teabags to use. My guideline is 1 bag or one slightly rounded teaspoon of loose leaf per 10 oz of water. You preferences may vary for weaker or stronger tea.
Tea Ball or Tea Infuser  or Tea Egg – A tea ball is not a fancy dress dance, it 's a device into which loose tea leave are put for steeping. Once in the tea pot, the hot water poured over it  can seep through the mesh of a tea ball to the leaves.
Ready to make some tea? Stay tuned!
April 20, 2011 by Peter MacLaren
Your wedding should be a very special day which expresses your style and personality, even if you are working with a small wedding budget. Small weddings are the trend these days as couples are opting for a more personal occasion with just family and close friends. Small and intimate weddings provide an opportunity for the couple to visit with each guest, to relax and enjoy the occasion, to really put their personal touches on the celebration, and for the families to get to know each other in a comfortable setting. To say nothing of saving money to put towards a wonderful honeymoon, a house down-payment or even towards paying off student loans.
If you have an intimate wedding in mind why not consider a B&B venue? Such a location can provide a dramatic backdrop for your own special touches. Whether an elegant country estate, an urban city-scape, or like ours, a mountain setting with meadows, gazebo, handsome red barn, ponds and gardens, there is a B&B sure to suit your taste.
You can have the memorable, intimate wedding of your dreams with memories to last a life time, without breaking the bank. Small is beautiful!
At West Hill House B&B we work with highly qualified, local wedding professionals to help you plan a stress free occasion. We have facilities for weddings from 2 to 80 people and we still have a few June and July 2011 dates available for wedding bookings. We pride ourselves in providing you and your guests with personal attention and excellent service, all in a restful country setting near Sugarbush in the beautiful Green Mountains of Vermont.
April 17, 2011 by Peter MacLaren
The Thomsons from Ottawa, Canada were recent guests at West Hill House. At breakfast we asked if they had found their room comfortable. Their reply?
"Our room was an oasis of tranquility within an oasis of tranquility."
April 15, 2011 by Peter MacLaren
Over the past few weeks I have attended two conferences, each providing various meals followed by coffee and tea,  but only if you asked for it.
My latest tea challenge came just the other day. I was brought a cup filled with very warm water (not hot enough to have been boiling) and a wooden case from which I could choose from about a dozen types of teas and tisanes. The tea bags were tucked into little cardboard boxes  1.75″ x 1.25″ x .75″ and wrapped with plastic wrap with a pull tab much like the wrapping on a cigarette package. By the time I had chosen my tea, finally removed the plastic from the box, got the box opened and the tea bag into the cup, the water had gone from very warm to warm. While the quality of tea was good, full-leaf tea in a triangular tea bag, I could only imagine what this would have tasted like had it been properly made.
It's time tea was made and served correctly!
When you visit West Hill House, if you request tea, we will make you a proper cup of tea.Tea as it should be!
April 10, 2011 by Peter MacLaren
Save on Gas. Travel with Friends.
Invite another couple or two other couples to join you for a gas-saving get-away at West Hill House Bed and Breakfast.  Make a reservation for 2 or more nights, pay on one credit card, travel here in one vehicle and take advantage of our B&Bs Kick Gas, Gas Saver Special.
Pay full price for each of the rooms for the first night and receive the second night(s) at a 50% saving. If you stay for 3 nights, the third night(s) – on the house. Think of the savings as our way of helping you fill your gas tank.
We are happy to provide you with touring ideas, dinner reservations or even a home cooked dinner at the B&B if there are 6 of you traveling together.
The Gas Saver Special good now through June 30, 2011 and cannot be combined with other specials we may be offering . The Paris Suite is not included in this offer.
March 29, 2011 by Peter MacLaren
We recently received our beautiful new hand-thrown, signature stoneware mugs from Deneen Pottery of St. Paul, Minnesota. Deneen Pottery is a family owned and operated company and their products are handmade in the USA.
Liz and Joe from Fairbanks, AK were B&B guests the day the box of mugs arrived and Liz was the first to hansel our new mugs (hansel: to use something for the first time). They loved the mugs so much they bought two to take home with them.
We are delighted to offer these marvelous mugs to our guests for their hot beverages as well as to purchase as a reminder of a wonderful time at West Hill House B&B.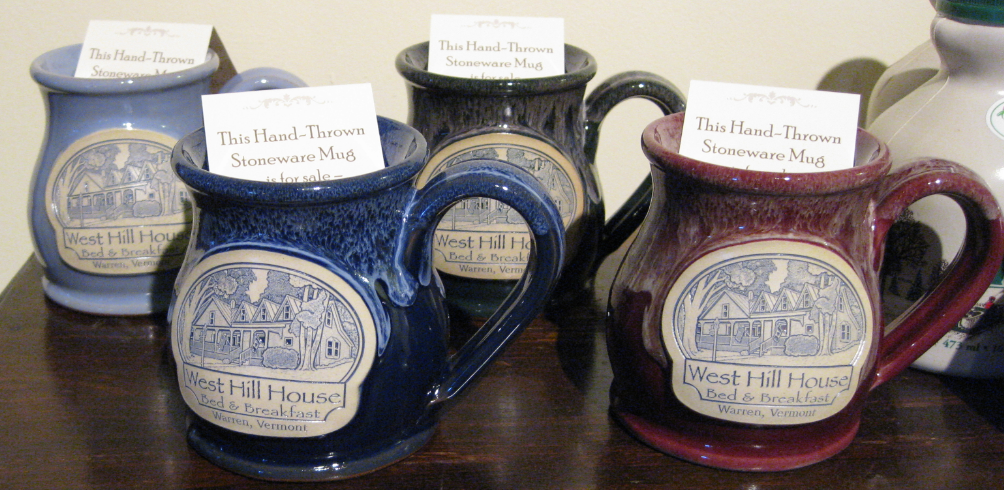 January 28, 2011 by Peter MacLaren
While we post regularly to our blog here, you can also follow us on our Facebookpage. Often we duplicate postings but usually there is more on Facebook than here on the blog.
For example we just posted a photo album from our Burns Supper, held for the first time in our newly renovated Handsome Red Barn. (Click on the photo to see the full album.) About 25 local residents and B&B guests joined in the festivities, celebrating the 252nd birthday of the great Scottish poet Robert Burns who was born on January 25th 1759.
In addition to pipe music, we enjoyed Haggis with the traditional fixings, Scottish Trifle, some Burns poetry then Scottish Country Dancing led by Don and Martha Kent. A good time was had by all. Be sure to come next year!
So "like" us on Facebook to keep up with ALL the news!