April 15, 2011 by Peter MacLaren
Over the past few weeks I have attended two conferences, each providing various meals followed by coffee and tea,  but only if you asked for it.
My latest tea challenge came just the other day. I was brought a cup filled with very warm water (not hot enough to have been boiling) and a wooden case from which I could choose from about a dozen types of teas and tisanes. The tea bags were tucked into little cardboard boxes  1.75″ x 1.25″ x .75″ and wrapped with plastic wrap with a pull tab much like the wrapping on a cigarette package. By the time I had chosen my tea, finally removed the plastic from the box, got the box opened and the tea bag into the cup, the water had gone from very warm to warm. While the quality of tea was good, full-leaf tea in a triangular tea bag, I could only imagine what this would have tasted like had it been properly made.
It's time tea was made and served correctly!
When you visit West Hill House, if you request tea, we will make you a proper cup of tea.Tea as it should be!
April 10, 2011 by Peter MacLaren
Save on Gas. Travel with Friends.
Invite another couple or two other couples to join you for a gas-saving get-away at West Hill House Bed and Breakfast.  Make a reservation for 2 or more nights, pay on one credit card, travel here in one vehicle and take advantage of our B&Bs Kick Gas, Gas Saver Special.
Pay full price for each of the rooms for the first night and receive the second night(s) at a 50% saving. If you stay for 3 nights, the third night(s) – on the house. Think of the savings as our way of helping you fill your gas tank.
We are happy to provide you with touring ideas, dinner reservations or even a home cooked dinner at the B&B if there are 6 of you traveling together.
The Gas Saver Special good now through June 30, 2011 and cannot be combined with other specials we may be offering . The Paris Suite is not included in this offer.
March 29, 2011 by Peter MacLaren
We recently received our beautiful new hand-thrown, signature stoneware mugs from Deneen Pottery of St. Paul, Minnesota. Deneen Pottery is a family owned and operated company and their products are handmade in the USA.
Liz and Joe from Fairbanks, AK were B&B guests the day the box of mugs arrived and Liz was the first to hansel our new mugs (hansel: to use something for the first time). They loved the mugs so much they bought two to take home with them.
We are delighted to offer these marvelous mugs to our guests for their hot beverages as well as to purchase as a reminder of a wonderful time at West Hill House B&B.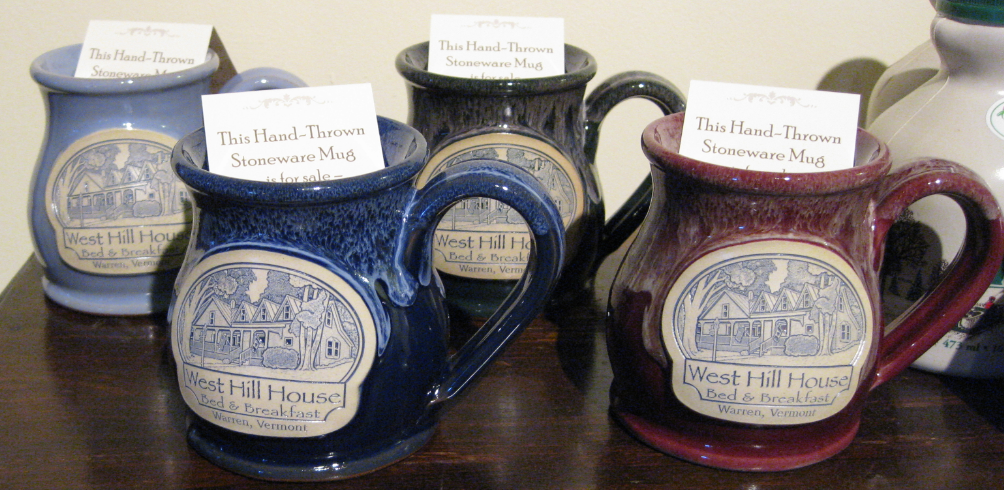 January 28, 2011 by Peter MacLaren
While we post regularly to our blog here, you can also follow us on our Facebookpage. Often we duplicate postings but usually there is more on Facebook than here on the blog.
For example we just posted a photo album from our Burns Supper, held for the first time in our newly renovated Handsome Red Barn. (Click on the photo to see the full album.) About 25 local residents and B&B guests joined in the festivities, celebrating the 252nd birthday of the great Scottish poet Robert Burns who was born on January 25th 1759.
In addition to pipe music, we enjoyed Haggis with the traditional fixings, Scottish Trifle, some Burns poetry then Scottish Country Dancing led by Don and Martha Kent. A good time was had by all. Be sure to come next year!
So "like" us on Facebook to keep up with ALL the news!
January 13, 2011 by Peter MacLaren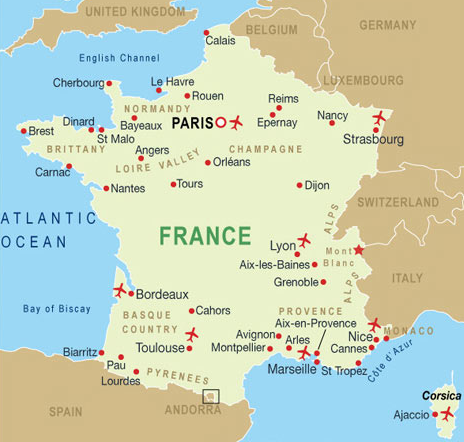 Three cousins visiting from France delighted us with this guest blog about their visit to the Mad River Valley. Nous disons, "Merci, Fanny, Audrey, et Valerie pour votre visite."
Nous avons passé quelques jours au West Hill House chez Susan et Peter en août 2010. Et quel séjour au coeur des Green Mountains, dans le Vermont. Les hôtes sont charmants et très accueillants, heureux de nous faire partager leur passion pour leur magnifique région. La maison est très jolie et confortable, rappelant les maisons Américaines (exterieur), Canadiennes et Ecossaises (intérieur). Quant aux petits déjeuners de Susan : exquis !! Et en tant que Français, tout le monde sait à quel point nous aimons les mets de qualité!
Et pour finir deux grands chats adorables : Smoky et Snowball!
La région du Vermont vaut le détour : de belles randonnées dans les Green Montains, des baignades dans la rivière, beaucoup d'expositions d'artistes et artisans d'art, The Warren store à voir absolument (Magasin qui rappelle le magasin de Mr Olson dans la petite maison dans la prairie!!), vous pourrez y déguster de délicieux petits plats et trouver des objets insolites, The Store à Waitsfield (petite ville à quelque kilometres de Warren) où l'on vous accueille avec une tasse de thé ou de café, vous y trouverez tout le necessaire pour cuisiner : des ustensiles aux condiments. Cette région regorge de "red barn" = fermes typiques rouges, de ponts couverts, et de restaurants où nous avons toujours très bien mangé.
Bref, je gardais du Vermont un souvenir exceptionnel, 15 ans après mon premier voyage, j'ai retrouvé la même authenticité et le même accueil chaleureux.
N'hésitez plus, West Hill House et le Vermont sont des lieux que l'on n'oublie pas ! Pour ma part, je reviendrai en automne ou en hiver, cela doit être magique!
January 3, 2011 by Peter MacLaren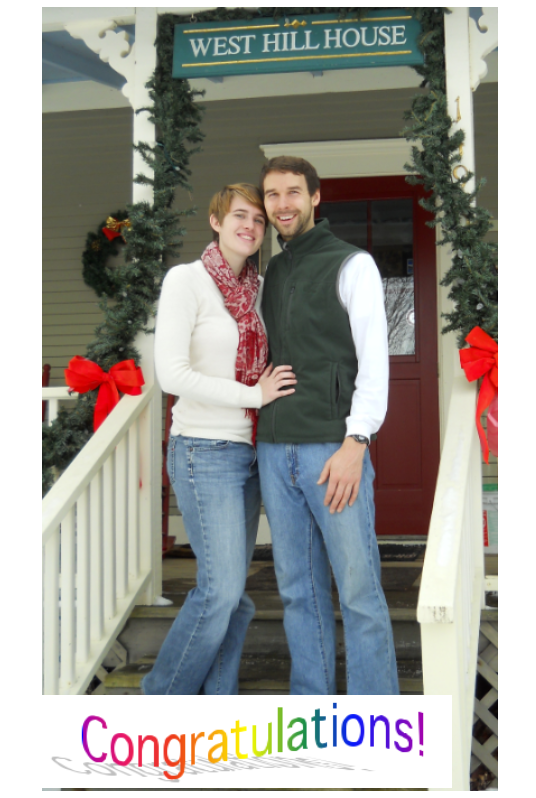 Look who just got engaged at West Hill House.
Kathryn and Peter visited us in the spring and came back during the Christmas holidays for some R & R – Relaxation and a Ring!
"Your bed and breakfast is so relaxing and enjoyable and I'm so glad that we were able to have it as our engagement location. I can't imagine anywhere else where I would have done it and Kathryn thought it was perfect. We can't wait to come back again."
Thanks Peter and Kathryn, we loved having you here and look forward to your next visit.
December 22, 2010 by Peter MacLaren
The West Hill House and 17 other Vermont Select Registry Inns are offering complimentary stays for any Vermont Guard member at one of the participating Inns. These outstanding citizen soldiers have made tremendous sacrifices for us. Thank you Vermont Guard! If you are a Vermont Guard member call us or any of the Vermont Select Registry Inns for a reservation.
At West Hill House B&B we are offering a free two-night stay to any returning Guard member and significant other during the months of January, February and March 2011 (except Presidents Week from February 20th to 24th). The offer applies to stays on Sunday through Thursday nights. Discounted ski passes are also available.
PLEASE become a fan of the Face Book fan page Welcome Home Vermont Guard. Details of the program can be found on the fan page.
December 4, 2010 by Peter MacLaren
Wedding planning means attending to a myriad details: choosing invitations, the perfect dress, bridesmaids dresses, rings, honeymoon location, guest list, venue, caterer, menu … the list is long and may seem overwhelming. TV programs feature big budget destination weddings with all the trimmings- beautiful beaches, glitzy hotel ball rooms, lavish country clubs.  
With the tight economic times many couples are planning weddings ranging from elopements with Just-the-Two-of-Us to small wedding with often no more than 30 family members and friends. Small intimate destination weddings planned on a carefully managed budget and can be just a beautiful and just as memorable. Whether you invite 5, 50 or 250, chances are you can find a B&B that is just right for you.
You may be surprised to learn that many smaller towns have a good number of highly skilled wedding professionals who will help you plan your perfect day. In the Mad River Valley for example we have internationally renowned photographers, award winning florists, amazing chefs and caterers using local ingredients with exceeding flair, skilled hairdressers and make up artists, excellent musicians, and numerous B&Bs whose owners offer a range of wedding package.
Like many B&B owners, here at West Hill House we are happy to help you plan and co-ordinate all your local wedding needs. Our wedding couples appreciate the fact that we take a personal interest in their wedding plans, no cookie cutter weddings here! We were delighted to help Steve and Skott plan their October wedding which took place under our beautiful maple trees and was attended by 20 family and friends.
Whatever your budget, what ever your venue, what every your guest count,  your wedding is one of the most important days of your life and requires a good deal of planning. At West Hill House we love to host small intimate, budget friendly weddings with up to 80 guests. We know our local wedding professionals as friends and neighbors and would be delighted to help plan your wedding so you may have memories to last a life time.
December 4, 2010 by Peter MacLaren
From guest Susie:
My husband and I celebrated our 30th Anniversary with a 3 week New England vacation in October. It had always been my dream to see the fall foliage and experience the charm of New England and we were not disappointed.
We saw many beautiful areas but when people ask me what was my favorite part, I do not hesitate to respond. West Hill House in Warren, Vermont was tops! Our expectations were exceeded in every way. Peter and Susan made us feel like family the moment we arrived. We even did laundry in the newly renovated barn.
Their home is gorgeous, spacious and so relaxing. There are large areas to sit and enjoy quiet time or visit with wonderful guests. The grounds are stunning and the fall colors were absolutely vivid. We loved taking early morning walks and photographing all the beauty that we were surrounded by. My husband thought the golf course would be fun to try sometime.
Susan's breakfasts were absolutely delicious and Peter spent a good amount of time mapping out drive routes for our visit. The surrounding area offers so many wonderful restaurants and things to see and do. We saw covered bridges and had fun at the Ben & Jerry's factory tour. We ate one night at American Flatbread and waiting is half the fun. There are bonfires outside and people just enjoying each other. The food was made with organic ingredients and was fresh and yummy.
My only regret is that 2 nights was not nearly long enough and I was sad when it was time for us to leave. I keep telling my husband that for any occasion he can give me a gift certificate to West Hill House! I hope we can come back soon and I thank Peter and Susan for truly making our dream a reality.
Editor: An addition to Susie's comments is that she is an exceptional photographer. She shared some of her photos with us and the one shown is a beautiful view of our barn from behind the Beaver Pond.
October 17, 2010 by Peter MacLaren

"Susan and Peter are the perfect hosts, creating an atmosphere where guests wished to linger over morning coffee or gather in the comfortable great room to share a glass of wine."

Ruth sent us a number of her photos. We show here her photo of the new location this year for our hammock, beside one of our ponds. It proved to be very popular on sunny afternoons!

From guest Ruth Wanless: "West Hill House is a charming Vermont Inn set in the picturesque mountains of Vermont. I came to photograph the fall foliage and was not disappointed. The inn was surrounded in wonderful color and was near to attractions such as Moss Glen Falls, Kent Pond and the quaint villages of Warren and Waitsfield. Early morning walks along the road provided many photographic opportunities."
October 8, 2010 by Peter MacLaren
We are delighted to announce that once again for 2010-11 West Hill House B&B has been selected as one of the top 10 B&Bs in New England by BedandBreakfast.com. We are one of only four B&Bs in Vermont to be recognized in their 2010-11 awards in various categories, and we have won this award in 3 out of the last 4 years.
The selection criteria for the Best of BedandBreakfast.com Awards include both quantitative and qualitative analysis of the independently posted reviews on BedandBreakfast.com. So to you, our guests, we thank you for sharing on-line the great experience you had when visiting West Hill House.
We look forward to providing the same exceptional experience to return and future guests during all seasons of the year – come and visit us (again) soon!
June 16, 2010 by Peter MacLaren
We have two great events over the July 4th weekend for our guests to enjoy.
On Saturday July 3rd enjoy the Stars and Stripes Charity Airshow featuring bi-plane aerobatics and other great stunts. All proceeds to benefit the Vermont National Guard Charitable Foundation, a nonprofit organization which serves to meet the emergency financial needs of the men and women of the Vermont National Guard and their families. Tickets are complimentary for our guests – advance booking is highly recommended. Starts at 1PM – don't be late!
Then on Sunday July 4th we have the famous Warren July 4th parade. For the 62nd consecutive year, Warren will celebrate its independence with a wild, wacky, and wickedly fun parade, street dance, and family festivities! Parade starts at 10 AM.
These events are always unique, with little deference to political correctness. This year's theme is "Life, Liberty, & the Pursuit of Healthiness". The parade typically proceeds down Main Street, then takes the right on Brook Road – floats pull off the road, or continue up to Brooks Field parking lot…where, after the parade, fun & festivities abound on the field until mid-afternoon. Included in the afternoon fun will be a Scottish Highland Games demonstration at Brooks Field. Now THAT is fun!