Pricing Details:

$39 per person plus tax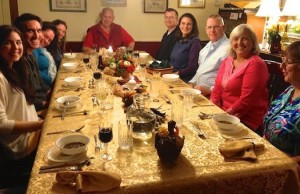 We invite our guests to join us for two special feasts at West Hill House B&B:
Thanksgiving Dinner
Christmas Dinner
What could be better than Thanksgiving Dinner without having to cook or do dishes? Join us as we all gather around our big dining room table on Thanksgiving Thursday for a traditional Thanksgiving celebration. Our feast will delight your taste buds with many locally grown products and will include the favorites; soup, roast turkey, mashed potatoes with farm fresh potatoes and Cabot butter, sweet potatoes with maple syrup from just down the road, a variety of fresh green vegetables, stuffing made with Red Hen bread,  gravy, cranberries and pumpkin pie.  Accompanying the meal will be Chardonnay, Merlot, and Cold Hollow Apple Cider. (Menu details may change slightly.)
Join us for a Country Christmas in the Green Mountains! Early risers may start the day with a cup of Green Mountain Coffee or rich, creamy hot chocolate and a scrumptious Christmas Day Breakfast Buffet. In the evening we will serve a Family Style Christmas Dinner. The menu will be Champagne & Appetizers, Lentil Soup with Parsley, Pineapple Glazed Ham with Scalloped Potatoes and Roasted Root Vegetables, – served with Chardonnay, Merlot or Fruit Juice. We will finish with traditional Scottish Desserts. (Menu details may change slightly.)
These special feasts are limited to B&B guests along with a two or more night stay. You can book online.