Must be beautiful in Vermont at this time of year – all that snow! All of us remember that line from the marvelous movie White Christmas. The good news is that we usually do have all that snow at Christmas time at West Hill House B&B!
Come join us this holiday season for three or more nights including the 25th of December and also enjoy a family style Christmas Dinner at our large dining room table with our other guests.
Plus of course we are right beside the Sugarbush Ski area, and also close to beautiful cross-county ski trails. Did we mention snowshoeing and sledding? Have a look at our Winter Activities for even more options.
By booking this getaway you will enjoy: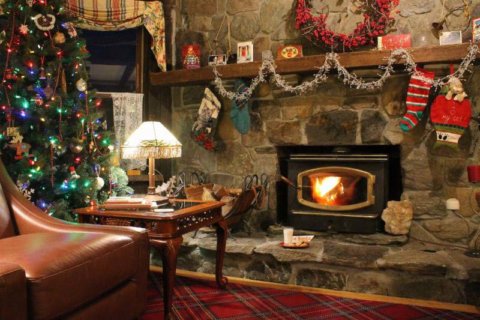 Three or more nights in one of our individually appointed guest rooms (including Christmas night)
A special Christmas morning buffet breakfast (and our amazing three course served breakfast the other mornings you are here)
The opportunity to sit by fire on Christmas morning and open presents you have brought with you beside the Christmas tree.
A traditional Christmas dinner for two
(Pricing based on room & date; for example from $799 plus tax for three nights in the Wildflower Room.)
Use promotional code "Noel" when you book online.