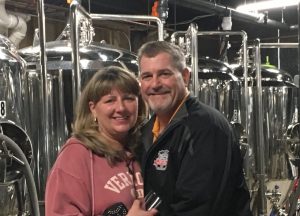 It's back for October for one weekend only, October 20th/21st!
Let us help you discover some of the country's best craft beer with our Brews & Snooze tour. Call us to book at 802-496-7162.
In conjunction with the Mad River Valley Chamber of Commerce we are offering this exclusive tour once again. Many of the marvelous Vermont craft breweries are a relatively short distance from us, and this package includes transportation so no driving is required!
Stay with us for the weekend and enjoy a full day of craft beer touring on Saturday on a comfortable bus, equipped with coolers to store any beer you buy during the tour. A unique feature of the tour is that a limited quantity of some hard to find craft beer is usually available for our tour guests to purchase, usually including Heady Topper and Lawson's Finest. (We will also provide cool storage for you at the B&B and ice packs for the drive home.) The photo is of guests Debbie & Peter at Prohibition Pig.
We will include a complimentary casual dinner at the B&B on Saturday evening so that you don't have to head out again in your car.
When booked directly with us the inclusive pricing for two people, subject to availability, for Friday & Saturday night of B&B and the tour is:
• Queen Room Package: $599.00
• Suite Package: $669.00
Additional nights at 30% off normal rates.
We will be more than happy to customize a package for you with extra nights. Call us to book at 802-496-7162.
Categories:
Craft Beer Tasting
,
Spring Specials