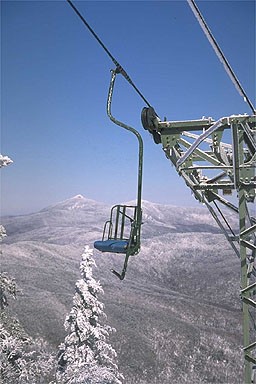 Perched on the backbone of the Green Mountains, Mad River Glen has been ranked by SKI magazine as the most challenging resort on the East coast, due in no small part to having a 2,000 foot (610 m) vertical drop – this despite the fact that it's not that large of a resort!
Mad River Glen is a committed "skier's mountain," too – meaning it is one of the few ski resorts in the US to enforce a total ban on snowboarding. Now, while this is bad news for snowboarders, it's great for those skiers out there who have, for what ever reason, formed a, shall we say, "definite opinion" about sharing the slope with snowboarders – or even those who have *no* opinion on snowboarders.
A lot of Mad River Glen's approach is hand's off: they don't groom the slopes much, if at all, preferring to let things lay as they land, as it were. This means the trails can have a decided natural feel to them – and boy do they vary in difficulty!
From flat, open greens to steep, mogul-pocked trails that give Mad River Glen its well-earned reputation as the most challenging ski area in the Northeast, there's something for every level of skier. Check out the infamous 38 degree pitch of the Paradise run if you think the "most challenging" rating is just hype!
The operation of the last "single-chair" chairlift makes them pretty unique, too – and zippy, too: their unique lift is the fastest fixed-grip chairlift in the United States. Hold onto your hat and goggles!
The resort's motto – "Ski It If You Can" – has more than one meaning, if you ask us. Not only does it indicate the challenge inherent in many of the runs, it's also a heads-up that the place is, indeed, very special and, if you're in the area, you really oughta give their slopes a try.
Luckily, our Ski and Stay Passport offers you a great opportunity to ski freely at Mad River Glen, as well as other resorts in the area and enjoy offers and freebies at local stores and restaurants. So reserve a room and get ready to hit some of the most unique slopes in the Northeast – we'll keep the cocoa warm for you.