All about the West Hill House B&B in Warren Vermont.
West Hill House B&B is a premier Warren, Vermont Inn -a historic Vermont family farmhouse built in the 1850s. Extensively upgraded over the years, today it offers warm hospitality, great beds, fabulous food, and a relaxed, rural setting in the Green Mountains of Vermont.
Breakfast At the West Hill House
Enjoy a full, hot breakfast with our other guests. Our sumptuous three-course breakfast starts with fruit juice, homemade bread or muffins, and a specially prepared fruit dish, followed by a tantalizing hot entrée to give your taste buds an early morning treat and energize you for the day's exploration. 
Coffee, tea, hot chocolate, and homemade treats are always available. More About Breakfast…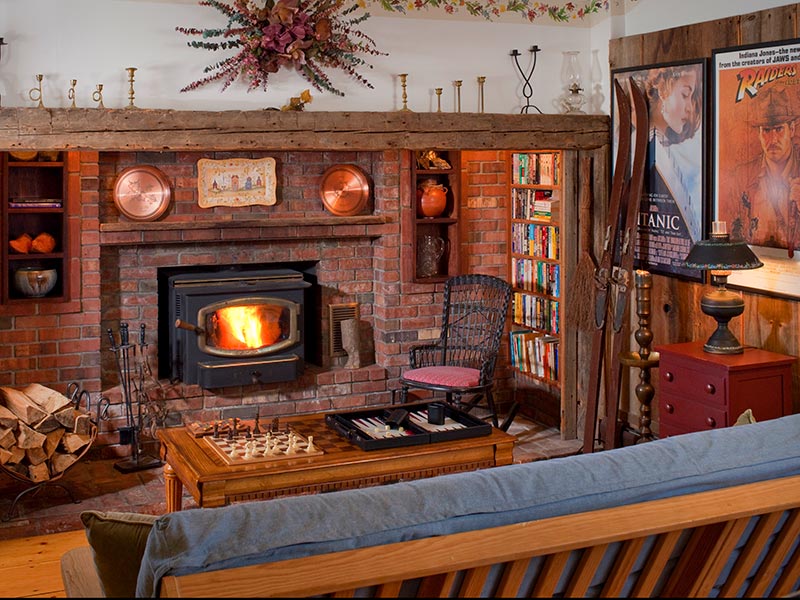 A unique aspect of West Hill House B&B is "The Commons"—three spacious rooms for you to relax in, in addition to the comfort of your guest room and the grounds and gardens. Many of our guests tell us that the spacious layout of the West Hill House B&B makes it feel just like being pampered in the home of a favorite aunt or uncle. More about The Commons…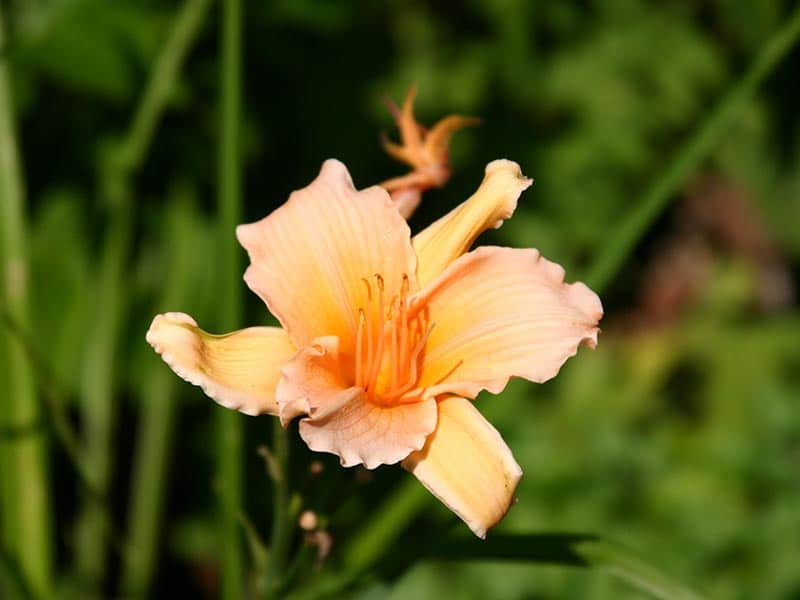 Relax in the Tranquility of our Gardens
The gardens at West Hill House B&B put on a three-season display. Nine peaceful acres with mountain views, meadows, ponds, gardens, and woods create a setting for relaxation and seclusion. Put your feet up on our front porch, the canopied back deck, or the airy gazebo.  Learn more and see photos of our gardens…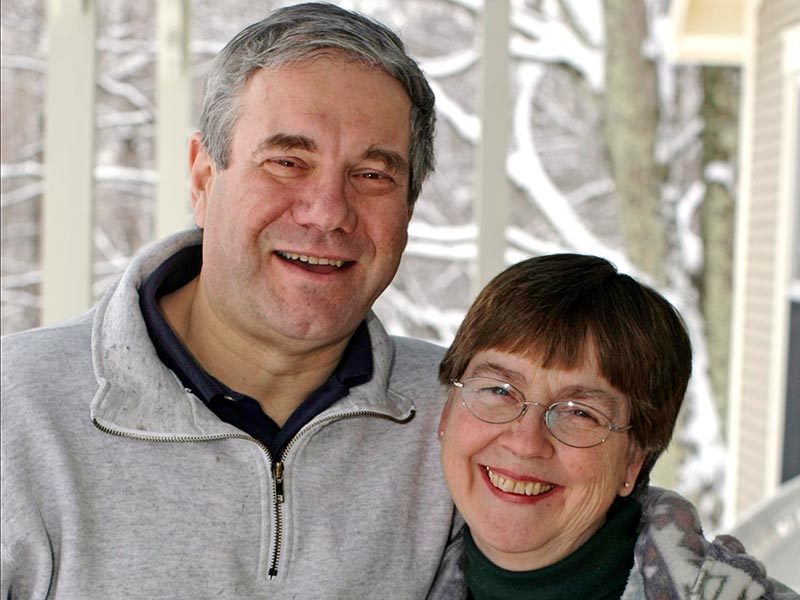 You can see and hear about our B&B in the videos below and also enjoy many more videos about the B&B, about nearby activities, and guest comments on our Video Library…
Your well traveled innkeepers, Peter and Susan are continuing the long-standing tradition of comfort, hospitality, and great food at West Hill House B&B. We take pride in offering a personal concierge service for all our guests to help you explore the Mad River Valley and the surrounding area, enjoy the restaurants, and find all the activities you are looking for. Both Peter and Susan are certified Vermont Ambassadors. We look forward to seeing you at the B&B.
Awards & Affiliations ~ An Award Winning Vermont Bed and Breakfast
At West Hill House B&B, a Vermont Bed and Breakfast near Sugarbush, we strive to make every guest's stay an unforgettable event. In recognition of our dedication to excellence, Peter was presented with the Vermont 2019 Innkeeper of the Year Award by the VT Chamber.  West Hill House B&B has also once again been awarded the 5-star Certificate of Excellence by Trip Advisor in 2019 for the 9th consecutive year, and the 5 year "Hall of Fame" award for the fourth successive year. The Inn is also rated the #1 Bed and Breakfast in Warren.
Select Registry – West Hill House B&B is a member of Select Registry, the premier innkeeping association in the United States and Canada. We are one of more than 300 quality-assured premier bed and breakfasts, inns, and hotels throughout North America. All of us have passed an unannounced, rigorous, 200-point quality assurance inspection to earn and maintain our Select Registry membership, and to ensure each of us provide travelers with guaranteed quality, exceptional service, and an unforgettable lodging experience. We have been a member since 2009. 
The Brand Promise – "We believe people deserve exceptional and unique experiences in their lives. At Select Registry's quality-assured properties, our guests will experience one-of-a-kind settings, authenticity, local connections and flavors, and people who are genuinely honored to take great care of you." Read more about Select Registry.
Borden E. Avery Innkeeper of the Year in 2019 – This award that Peter was selected for is designed specifically to recognize individuals who continue to demonstrate excellence in the operation and management of a Vermont bed & breakfast, inn, hotel or resort, and a commitment to the growth of the local community.
Green Hotel – West Hill House B&B was designated in November 2008 as a Green Hotel in The Green Mountain State by the Vermont Environmental & Regulatory Assistance Program. We were presented with a plaque recognizing this status by Governor Jim Douglas in April 2009. We have also been identified as a Green Leader at Gold Level by Trip Advisor.

Trip Advisor – West Hill House B&B is rated #1 in Warren and is one of the highest rated in the Mad River Valley and Vermont by TripAdvisor.com.  The B&B was awarded the "Travelers' Choice" Award in 2020 & 2021 for being among the top 10% of properties globally. Also in 2019 we were once again awarded the 5 star Certificate of Excellence by Trip Advisor for the 9th consecutive year, and the 5 year "Hall of Fame" award for the fourth successive year. (These award categories were retired after 2019.)
Blog Posts about our Vermont Bed and Breakfast in Warren VT