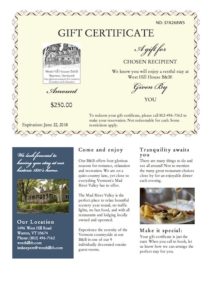 Thank you for choosing to purchase a gift certificate for West Hill House B&B.
You can select the recipient, the amount you wish the gift to be for, add a customized message, and how you wish the certificate to be delivered.
Please submit this form, then we shall send your recipient a customized gift certificate, similar to the image shown, by email or regular mail, or send it to you to give to them if you prefer. Please note your preferences on the form.
We will process your credit card for the amount you choose, and you will receive a confirmation by email. This is a secure process. Or call us at (802) 496-7162.
We will take good care of your guests when they come and stay with us! The certificate will be valid for 13 months from the date of issue.
Questions? Call us at (802) 496-7162.