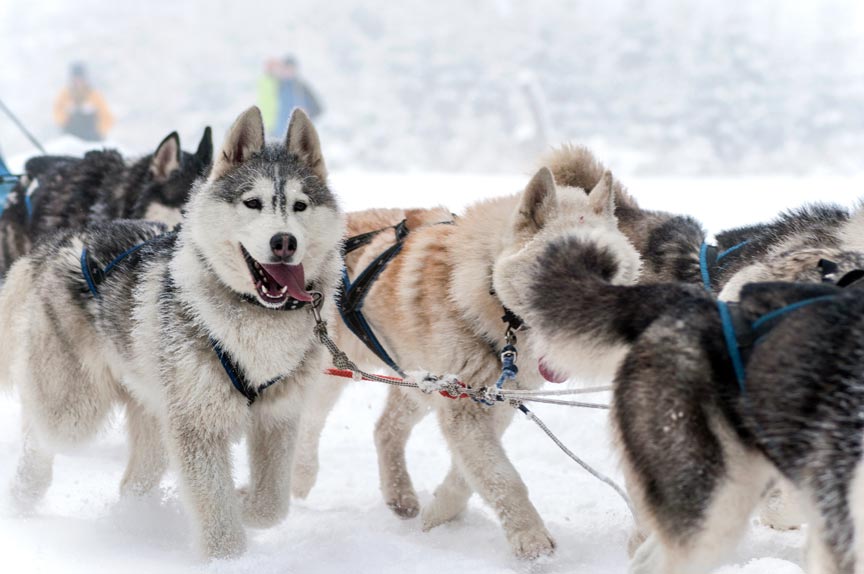 You don't have to travel all the way to Alaska to have a dog sledding experience. In fact, there are Vermont dog sledding tours available right here in the Mad River Valley!
It bears repeating: Vermont's Mad River Valley is a winter sports-enthusiast's paradise. Sugarbush, Mad River Glen, Ole's, and the Catamount Trail are just the tip of the iceberg when it comes to Nordic or alpine skiing here. Snowboarding, snowshoeing, ice-skating, and shooting down slopes on the Valley's own Rocket Sled are also popular and easily accessible, regional winter pastimes.
Perhaps our area's most unusual – or at least atypical – cold-weather activity is dog sledding.
October Siberians has been offering Vermont dog sledding tours in the Mad River Valley since 2005 – and what an opportunity! Dog sledding merges the thrill of sledding with the joy of working with a team of happy, healthy dogs. And you'll really work with them too.
October Siberians' Vermont dog sledding tours are not just a fun ride but an interactive experience of driving the sled. These dog sleds are designed for two drivers, with October Siberians acting as the main "musher," or driver. You, meanwhile, will have the opportunity for some hands-on experience driving a dog team. How cool is that?
Of course, you may prefer to simply sit back in the sled bag and enjoy the ride. That's okay, too! You choose how much involvement you have as well as whether your tour is a downhill thrill ride or an easy glide through the park.
October Siberians offers a variety of Vermont dog sledding tours, too.
Enjoy a two-hour dog sled tour of Little River State Park, or take things a bit more slowly with a 20 minute evening tour at Stoweflake Resort. October Siberians also offers custom programs for corporate team-building and other events. You can even experience the thrill of dog sledding without the snow during October Siberians' limited, autumn dog-cart training sessions!
Vermont Dog Sledding Tours In The Mad River Valley
If you'd like to enjoy one of October Siberians' Vermont dog sledding tours, you'll want to plan ahead. These tours have limited availability and are weather dependent.
You can book your tour with October Siberians online … or just let West Hill House B&B know. We'll be more than happy to book the adventure for you.
That's true of almost anything you'd like to do during your Mad River Valley getaway. West Hill House B&B is proud to offer a personal concierge service to all our guests. You let us know what and when and we'll make the reservations for you.
Suppose you know what things you like to do but are not sure where you can do it, here? No problem! As certified Vermont Ambassadors, we can also make educated recommendations.