November 29, 2012 by Susan
With early season snowflakes whirling about them, and the temperature sitting at about 28°F, Ryan and Jeff were married in the meadow at West Hill House B&B. Our favorite Justice of the Peace, Greg Trulson officiated at the wedding making it a very meaningful occasion, as he always does. Following the ceremony,  the newly married couple asked Peter to continue taking photos as they enjoyed a short stroll around our wintery gardens.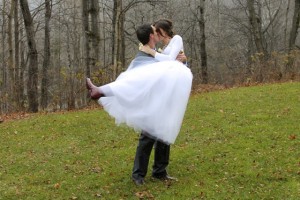 Warming up by the fireplace a few minutes later Ryan and Jeff enjoyed an intimate wedding reception complete with wedding cake, made here at West Hill House, and a bottle of  Champagne. They were kind enough to invite Greg and Peter and Susan to join them.
Ryan loves experimenting with recipes. Check out her food blog called Skinny Supper. It's a fun site with lots of photos to help you along.
Our Sap-bucket list has just the thing for you runners, the Mad Marathon!
Billed as the World's Most Beautiful Marathon, July 8, 2012  is the date for the 2nd annual run and it's not too late to register to take part in either the full or half marathon. Walkers are also welcome.
Joining runners from around the world, the run will take you through the beautiful Mad River Valley on back and dirt roads offering breathtaking views of  the Green Mountains, covered bridges,  barns and of course, Vermont cows!
Professionally organized, this marathon course is certified and sanctioned by the US Track and Field. Check out the Mad Marathon website for full details.
West Hill House B&B, like many B&Bs in the area, requires a two night booking on the Marathon weekend so plan to stay for a few days to enjoy the many less strenuous activities such as visiting Ben & Jerry's, photographing the covered bridges, standing in awe at the foot of beautiful waterfalls, enjoying the many great restaurants or just relaxing in a hammock.
The countdown is on to the World's Most Beautiful Marathon – come be part of this amazing event.
December 4, 2010 by Peter MacLaren
From guest Susie:
My husband and I celebrated our 30th Anniversary with a 3 week New England vacation in October. It had always been my dream to see the fall foliage and experience the charm of New England and we were not disappointed.
We saw many beautiful areas but when people ask me what was my favorite part, I do not hesitate to respond. West Hill House in Warren, Vermont was tops! Our expectations were exceeded in every way. Peter and Susan made us feel like family the moment we arrived. We even did laundry in the newly renovated barn.
Their home is gorgeous, spacious and so relaxing. There are large areas to sit and enjoy quiet time or visit with wonderful guests. The grounds are stunning and the fall colors were absolutely vivid. We loved taking early morning walks and photographing all the beauty that we were surrounded by. My husband thought the golf course would be fun to try sometime.
Susan's breakfasts were absolutely delicious and Peter spent a good amount of time mapping out drive routes for our visit. The surrounding area offers so many wonderful restaurants and things to see and do. We saw covered bridges and had fun at the Ben & Jerry's factory tour. We ate one night at American Flatbread and waiting is half the fun. There are bonfires outside and people just enjoying each other. The food was made with organic ingredients and was fresh and yummy.
My only regret is that 2 nights was not nearly long enough and I was sad when it was time for us to leave. I keep telling my husband that for any occasion he can give me a gift certificate to West Hill House! I hope we can come back soon and I thank Peter and Susan for truly making our dream a reality.
Editor: An addition to Susie's comments is that she is an exceptional photographer. She shared some of her photos with us and the one shown is a beautiful view of our barn from behind the Beaver Pond.
May 28, 2009 by Peter MacLaren
What happens when the spring weather brings several days of rain to Vermont? Sure, the grass and dandelions grow like, well, like weeds! The gardens get a good watering so the flowers are happy. The creeks and rivers race downstream tumbling crazily over and around the rocks. And yes it's true some of the roads do get a bit muddy. But stop for a moment and think about the word "Vermont" – from the French, vert = green  mont=mountain and that is exactly what happens when it rains, the mountains get green. I don't know how many shades of green the human eye is capable of seeing but I'll bet they can all be seen from our front porch. The greens are amazingly intense and vibrant! The trees, decked out in their new spring finery, display everything from the palest of greens which look almost white,  to the very dark and bold forest greens. Between rain showers the sun peeks through the clouds making the leaves glisten like they've been sprinkled with the finest crystals and the lilac blossoms shimmer silvery-lavender. Spring is a glorious season in the Mad River Valley of Vermont,  a photographers dream, the chance to capture on film, a rain bathed leaf or an open flower blossom cupping droplets of water. Come visit vert mont,  up close and personal through the lens of your camera. West Hill House B&B is a great place for a home base!