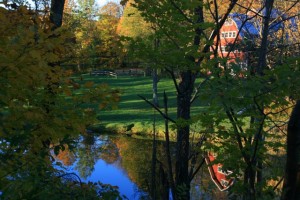 From guest Susie:
My husband and I celebrated our 30th Anniversary with a 3 week New England vacation in October. It had always been my dream to see the fall foliage and experience the charm of New England and we were not disappointed.
We saw many beautiful areas but when people ask me what was my favorite part, I do not hesitate to respond. West Hill House in Warren, Vermont was tops! Our expectations were exceeded in every way. Peter and Susan made us feel like family the moment we arrived. We even did laundry in the newly renovated barn.
Their home is gorgeous, spacious and so relaxing. There are large areas to sit and enjoy quiet time or visit with wonderful guests. The grounds are stunning and the fall colors were absolutely vivid. We loved taking early morning walks and photographing all the beauty that we were surrounded by. My husband thought the golf course would be fun to try sometime.
Susan's breakfasts were absolutely delicious and Peter spent a good amount of time mapping out drive routes for our visit. The surrounding area offers so many wonderful restaurants and things to see and do. We saw covered bridges and had fun at the Ben & Jerry's factory tour. We ate one night at American Flatbread and waiting is half the fun. There are bonfires outside and people just enjoying each other. The food was made with organic ingredients and was fresh and yummy.
My only regret is that 2 nights was not nearly long enough and I was sad when it was time for us to leave. I keep telling my husband that for any occasion he can give me a gift certificate to West Hill House! I hope we can come back soon and I thank Peter and Susan for truly making our dream a reality.
Editor: An addition to Susie's comments is that she is an exceptional photographer. She shared some of her photos with us and the one shown is a beautiful view of our barn from behind the Beaver Pond.