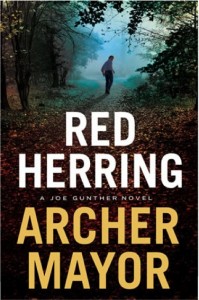 The problem with Archer Mayor's detective mystery books, featuring fictitious Vermont detective Joe Gunther, is that once you start them you can't put them down!
Three deaths – one an apparent rape and murder, one an apparent suicide and one an apparent drunk driving accident. Totally unrelated, or are they?  And are any of them really what they seem to be?
Another case for Joe Gunther. He focuses on the apparent "red herring"–a single drop of blood left on, or near, each body. And, as it turns out, not from the bodies themselves.
One of Joe's many assets is that he has been in his profession a long time.  He has many useful contacts, both orthodox and less so, that can help with analyzing the elements of the crime scene, including some rather high tech approaches for identifying the probable source of the blood in the blood spots.
However establishing the fact that there is a link among the three deaths, what it is, and who is responsible, takes Joe's intuition as well as analysis, playing some hunches, and getting help (or maybe not) from two woman, one part of his past, and one that may become part of his future.
Red Herring is a page-turner right to the last page, and the interesting twist at the very end will make you eagerly anticipate reading about the next challenge for Joe Gunther.
The book is available at Tempest Book Store in Waitsfield and also in iBooks.
Tickets are still available to see Archer Mayor in person at West Hill House on Friday 26th and Saturday 27th August.  Call 802-496-7162 for details.