Stirring it up: The first time I got carrots with their tops on from Muddy Boots, our Community Supported Agriculture farms, it got me thinking about carrot greens.  Carrot greens are most often thrown away during meal prep but I thought there had to be a use for them otherwise why would the Muddy Boots keep them attached to the carrots. I searched the internet, got some inspiration from a number of websites. Down in the kitchen, I opened the fridge and built a salad using various quantities of veggies until it looked and tasted good.  Quantities are to the best of my memory!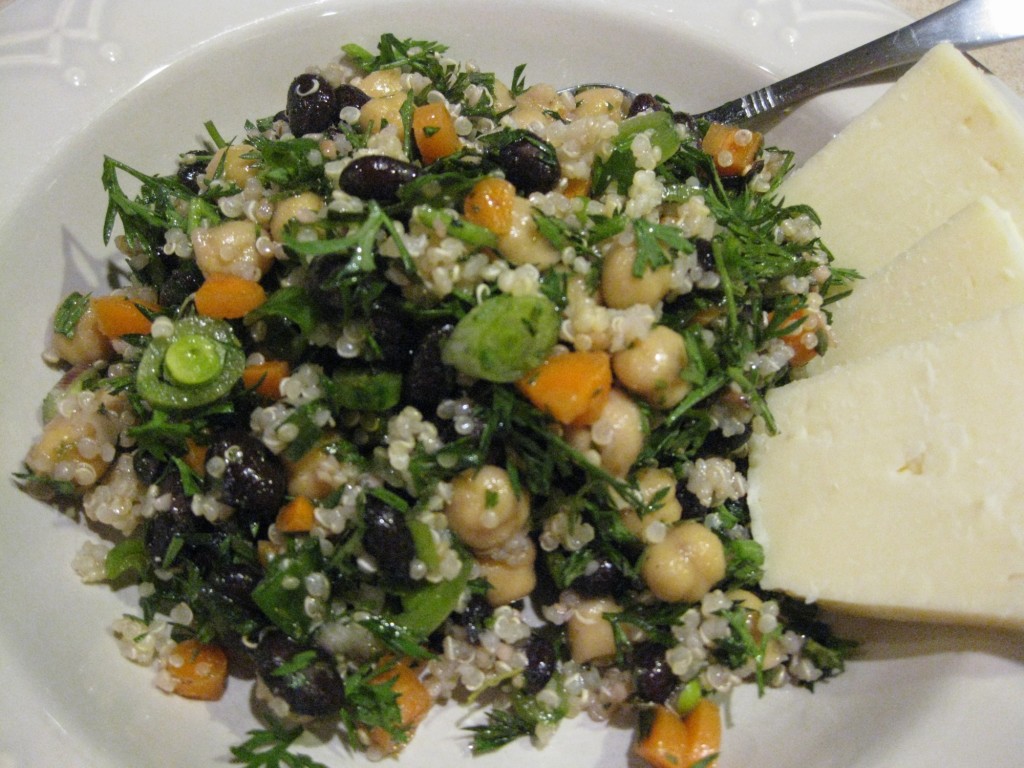 Carrot Greens Salad
1 1/2 – 2 c. cleaned & chopped carrot greens
1 c. black beans, pre cooked or canned
1 – 1 1/2 c. garbanzo beans (aka chick peas), pre cooked or canned
3 med carrots, diced
4-5 stems parsley, fresh & chopped
1 scallion thinly sliced
5-6 mint leaves, fresh & chopped
1 1/2 c. quinoa, cooked & cooled
4-5 green peas in the pod, fresh and thinly sliced
Dressing
1/2 c. olive oil
3T. red wine vinegar
1 small clove garlic, crushed or 1/4 t. dry garlic bits (not powder)
2-3 T. lemon juice, fresh
2 t. sugar
Prepare all the vegetables and place them in a large bowl along with the cooled quinoa.
Prepare the dressing by putting all the ingredients in a small jar and, with the lid on,  shaking it well.
Pour the dressing over the veggies about 10 minutes prior to serving and lightly toss the salad.
Be sure to adjust the quantities and veggies to your liking!
It tastes great the following day too and the carrot greens are still fresh looking.
Bon appétit!
Carrot Greens Salad tip:
Next time I might add about 1/2 c. corn kernels and 1 med tomato, diced. I served this with a side of a couple of slices of Cabot Seriously Sharp Cheddar cheese and some heavy rye bread. This salad made a great meal in itself.
Dishing it out: As a child I was sometimes called "carrot top" by those out to tease me but seriously, I had red hair and a carrot top is green. Obviously those folks had no idea what they were talking about and, thus far in my life, I've never seen anyone with naturally green hair!
That being said, we love the carrot greens we get from Muddy Boots CSA and we love being part of the Muddy Boots CSA (Community Supported Agriculture) which is a collaborative venture of  Kingsbury Market Garden, Wood's Market Garden and Burnt Rock Farm.  It also includes dairy products from several of the local farms including Von Trapp Farmstead and Ploughgate Creamery at Bragg Hill Farm.
If you haven't come across CSA, it is a direct link between the farmers and the consumers (CSA members). The Members help to provide a portion of the farm's upfront costs at the beginning of the farm season by purchasing shares. In return, members receive a weekly variety of the farm crops.
CSA provides members a greater appreciation of the food they eat, they get to know the farmers, the way the food is raised, the importance of farmland,  and the dedication the growers have to their work.
This picture shows the first share of this season, a marvelous selection of absolutely fresh produce including brie cheese, luscious tomatoes, tasty shallots, crisp carrots complete with carrot greens, and cucumber, crunchy kale, dried black beans, beautiful lettuce, pungent basil, deep red beets, green onions and more.
How could you not like any of it, or waste any of it, which is why I wondered about the carrot greens. Carrot Greens Salad, what a perfect way to celebrate the wonderful farms and hard working farmers this 4th of July or on Canada Day if you are north of the border!