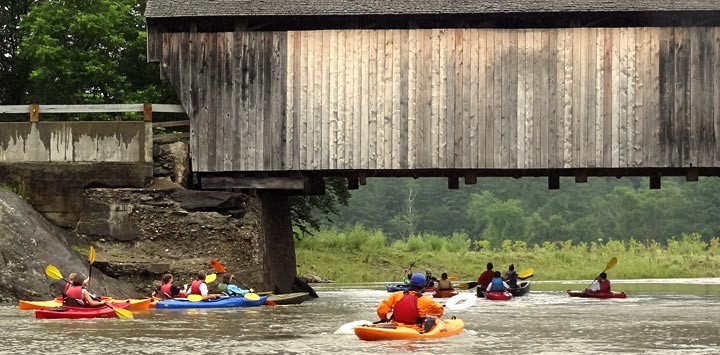 Why is the Mad River mad? It isn't – but if you want to be happy, try a guided Mad River Kayak tour with Clearwater Sports through West Hill House B&B!
Getting out of doors this time of year in Vermont's Mad River Valley is the obvious choice for really enjoying life – and what calls strongest on a hot, summer day than a chance to be out on some cool, flowing water? Not much.
Outdoor enthusiasts ourselves, we here at West Hill House B&B have teamed up with Clearwater Sports in Waitsfield, VT to provide an opportunity for our guests to enjoy Winooski and Mad River kayak tours!
Both the Winooski river and the Mad river are usually smooth, slow flowing, and easy to navigate during the summer months, making them the perfect choice for a casual and relaxing kayak trip. Add in a seasoned Clearwater Sports guide, if you wish, and you're all set for a worry free, scenic day out on the water!
And it's not just kayaks. Beyond taking a Mad River kayak tour, Clearwater Sports also offers canoes, tubes for tubing, and paddleboards. Bring your own equipment or let Clearwater Sports, a full-service outfitter, rent and instruct you on the gear. Use a guide or go off on your own adventure. There's even a shuttle service available. It's all set up to be very flexible, adjusting to your own, personal needs and interests for maximum enjoyment.
Interested? If so, all you need do is call us. We'll provide you with the details, then reserve you or your group a place in an upcoming Mad River kayak tour.
Winooski and Mad River Kayak Tours
Call West Hill House B&B at 1 (802) 496-7162 to set up your Mad River Kayak Tour through Clearwater Sports during your stay at West Hill House B&B. See you then!
A special "thank you" to our friends at Clearwater Sports for the great image of kayakers going under Waitsfield's covered bridge.