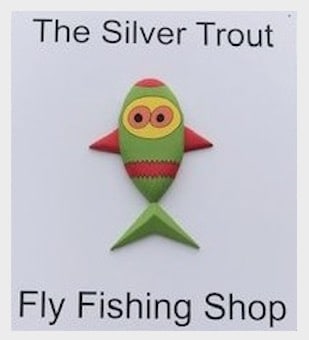 The Mad River Valley is welcoming a new business to the community that specializes in Vermont Fly Fishing products and excursions. The Silver Trout is owned by Stuart Hayden, a lifelong fly fisherman. His mission is to provide premium fly fishing accessories for other fisherman to enjoy.  Through his own experience and extensive research, Stu has developed a line of products that meet the need he always found was missing when trying to purchase items for his own hobby. Who better to create these new products than a person who has spent their life fly fishing?
The Silver Trout is holding the first Trout Day on June 29th from noon to 5pm. We are in no way Fly Fishing experts, but luckily, the folks at The Silver Trout are. They offer guided fishing excursions around the area to be sure you are headed to the right spots, with the right equipment, at the right time. The West Hill House B&B is excited to welcome guests who are looking for a great weekend of fishing. Take a look at our rooms here. Can't make it for June 29th? The Silver Trout will be hosting similar events each weekend June-September.
Trout in Vermont
Vermont is known for outdoor adventures from hiking and biking to hunting and fishing. Having The Silver Trout join the Mad River Valley community adds so much value and knowledge for those seeking what they offer; specialized expertise on fly fishing. Vermont has a long history with trout, one species is even our state fish! If you take a look at the map to the left, provided by the Vermont Department of Fish & Wildlife, you'll see that the state is absolutely bursting with different types of trout. Particularly looking at central Vermont, where we are located, you won't find any of those yellow pockets labeled "no trout" which is good news for fisherman.
If you are looking to take a Fly Fishing trip to Vermont, there are some laws and regulations to consider. This is another great reason to link up with the folks at the Silver Trout if you are interested in adding fishing to your list of activities while you spend time with us. They will be sure to assist you with licensure and any other necessary permits and regulations.
More to do in Vermont
So there you have it, one more thing to do in Vermont! There's a reason this state is a paradise for those seeking outdoor adventures and active vacations. We hope you'll enjoy a trip up here soon and if you're looking for more activities and area information, click here to take a look at other things the state has to offer.