Stirring it up: Chilled Fruit Soup – A Cool Idea For Hot Summer Days. Chilled fruit soups are simple recipes which can be made in minutes, refrigerated for a least an hour and served as a tasty part of any meal.
Makes about 10 half cup servings.
I've updated this recipe as some of the metric conversions weren't quite correct. Remember to use only one set of measures when following a recipe.
Ingredients: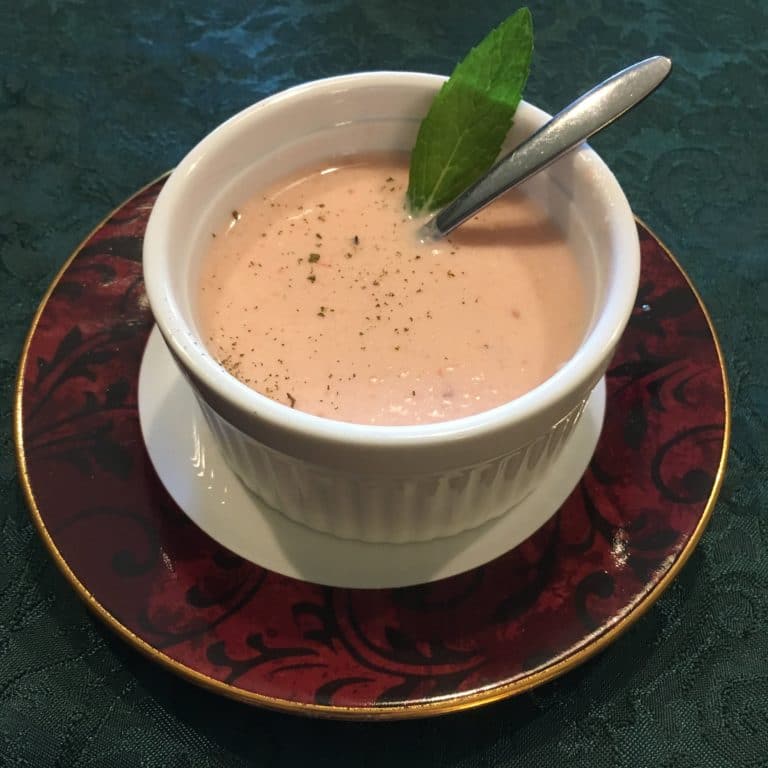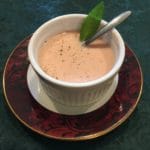 1 qt. (1 l) puréed fruit – all one kind or a variety.
1/2 c. (125 ml) whole milk
2 t.  (7 ml) lime juice concentrate OR 1 T. (15ml) lemon juice concentrate
1 1/4  to 1 1/2c.  (300 to 350ml) Greek yogurt (being in Vermont we use Cabot) the more yogurt the thicker the soup
1/3 c. (75ml) ginger ale, plain carbonated water, tonic water or champagne
Method:
Whisk the first four ingredients together until smooth. Use a blender, hand held mixer or whisk attachment on a stand mixer. If all the ingredients are chilled to begin with the intimate chilling time can be slightly reduced.
Chill for at least one hour although over night is better.
Pour into individual bowls.
Add a small amount of the ginger ale or or your choice of fizzy beverage to each bowl. This will produce tiny bubbles on top of the soup. Stir very gently.
Decorate with a sprinkle of crushed, dry mint and garnish with a fresh mint leaf.
Enjoy the chilled soup as a meal starter, refreshing snack or main course along with your other favorite summertime foods.
Dishing it out:
One day in early June the temperature at 8:27AM had already hit 75°F (24°C). You can see by the photo that it was warm in the kitchen as well! Chilled soup seemed the perfectly to start the day, a day which topped out at about 85°F (29°C). Chilled watermelon salad is another great hot weather meal idea.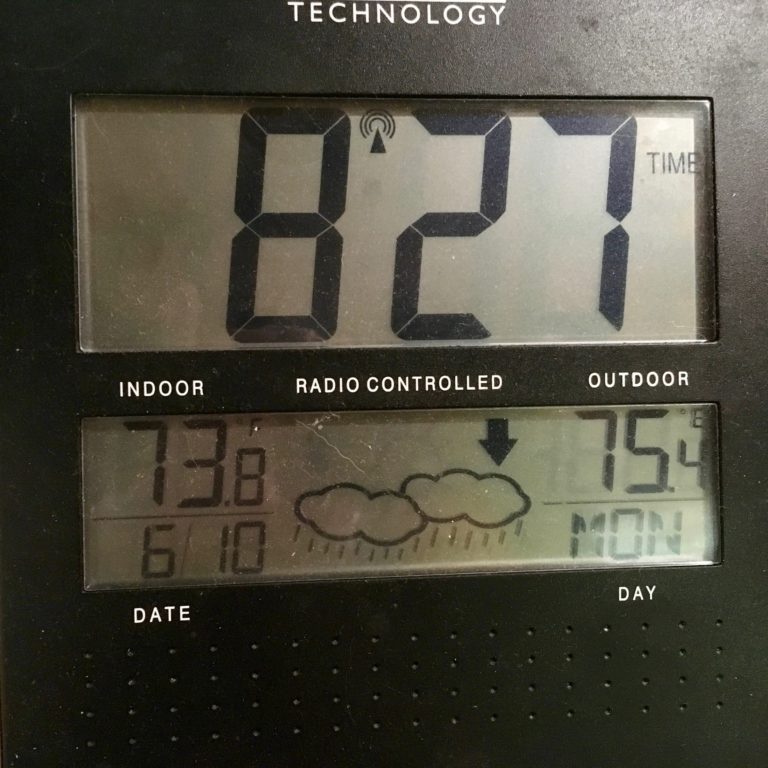 Having chilled soup reminded me of one of the days we were visiting friends in Madrid, Spain. The temperature was well over 100°F (37°C). We had just been in Paris which was also hot, the first summer in centuries that Paris temperatures were in the 90°+F (32°+C) and temperatures in southern France were even higher. Record temperatures were reached that summer across Europe with over 50,000 people dying of heat related issues, 14,000 alone in France. Air conditioning is not common throughout most of Europe. The weather was very much akin to what is happening now in the summer of 2019.
So back to Spain… we spent the morning exploring the city and learning a bit about its history. We visited churches, museums, art galleries, and more. Mid afternoon came and lunch was next on the agenda. We found a small restaurant away from the tourist areas (the benefit of having a local as your guide) and the special that day was gazpacho. Cool, refreshing, and ever so tasty. Exactly what we needed, that along with refuge from the intense sunshine and we were ready for more exploring.