Stirring It Up: 
With apologies to my Scottish husband, I give you the recipe for Irish Soda Bread which has been enjoyed by many guests here at West Hill House B&B. This recipe just a few minutes to put together and only 30 minutes to bake. Best eaten the same day. Our cornbread recipe is another quick and easy recipe.
Makes: One round loaf 8-10 inch (20 -25cm) across.
Oven: 400°F (200°C) preheat oven
Bake:  30min. Prep time about 10 min.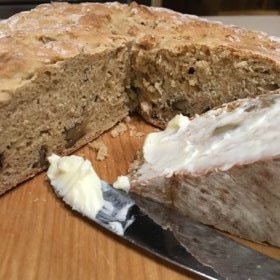 Ingredients:
  9 oz. whole wheat flour (250g)
  9oz. all purpose flour (250g)
  1t. baking soda (5ml)
  1t. salt (5ml)
  15oz. buttermilk(425ml)
  ½ to¾ c. walnuts roughly chopped (125ml –  200ml) Optional
  extra flour for the work surface
Method:
Mix together the flours, baking soda and salt in a large bowl.
Add the walnuts and stir to cover the nuts with the flour mixture.
Add buttermilk and mix to a very sticky dough.
Flour the work surface and tip the dough onto it.
Carefully roll and fold the dough a few times to bring the dough together. Do Not Knead!
Shape the dough into a ball.
Flatten the ball gently with your hands. About 1 1/2 inches (3.5cm) thick.
Place dough on a parchment lined baking sheet.
With a sharp knife draw a large + across the dough from top to bottom and from side to side. Don't cut through the dough just cut a little way into the dough.
Bake 30min. in preheated oven 400°F (200°C).
Loaf should be nicely browned and sound slightly hollow sound when tapped.
Leave it to cool on a wire rack.
Enjoy right away with butter, cheese, honey or jam.
Dishing it Out:
I enjoy watching the "Great British Bake Off". I get ideas, but for the most part I haven't the patience to undertake many of the recipes on the show. I have found a couple of quick recipes which I like, one being Paul Hollywood's Irish Soda Bread.
According to irishindeed.com, contrary to popular belief, Irish Soda Bread is apparently not Irish in origin. Its origins date back to Native Americans before European colonization. Native Americans made "soda bread" using ash (a forerunner to baking soda) instead of traditional leavening agents like yeast. Soda bread was adopted in Ireland in the 1800s due to increased poverty and hunger after the potato famine.
The original Irish Soda Bread contains the ingredients listed above, minus the walnuts which I add. Numerous "modern" recipes include ingredients like butter, egg, sugars, raisins, or seeds to enhance flavor. I guess I have a cross-generational recipe, the basic recipe plus walnuts.