Alberta Road Trip
Summer is the time for road trips and vacations, however, for us summer is a busy time so we often take ours in early spring. Many of our guests ask what we do for our vacation…well, it's a bit of a departure from our usual blogs but we thought you might be interested in our most recent adventure.
This year we went to Alberta, Canada, 1,960 air miles ✈ northwest of the B&B. Fortunately we didn't drive 🚗, according to google maps that would have taken us over 40 hours.
In the Air
Flying over the southern part of Alberta towards Calgary, we could see fields with the stubble of last year's crops. It was interesting to see the different patterns on the ground. It was also fascinating to see the riverbeds winding their way through the prairie landscape.
Once on 'terra firma' and driving through the farmland, we could see that fields were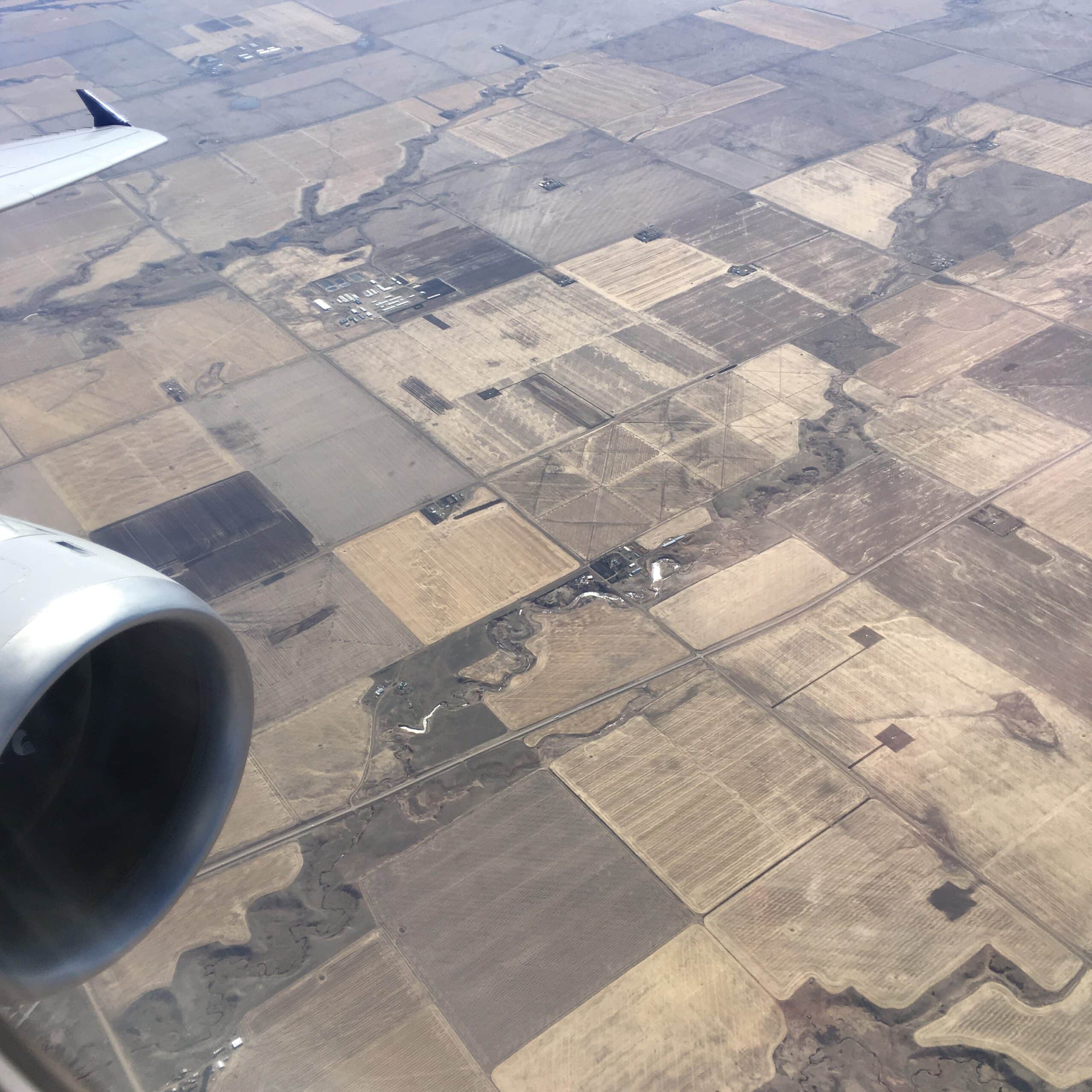 being plowed and pivots repaired before planting and irrigation got underway. These vast fields will soon be sprouting such crops as maize, canola, wheat, barley, and oats.
Farther north the terrain becomes rolling hills and deep coulees. A coulee is a gully or a ravine that is usually dry and was cut by water action. In the bottom of the coulees small rivers or dry riverbeds can be seen in the summer months while rainstorms and spring runoff provide seasonal quantities of water. Interestingly though, we learned that even though the coulees are often dry there is a fair amount of ground water which is piped to the fields to be used in the irrigation pivots.
An Extra-terrestrial Visit
We took a slight diversion from 'terra firma' when we were beamed up to  make an extra-terrestrial visit to Vulcan! Yes, there is a town in Alberta called Vulcan. Of course, we had to take a few photos! From their website:
Contrary to what popular culture might lead you to believe, the Town of Vulcan did not get its name from science fiction. In 1910 a CPR surveyor, who had a fondness for Roman Mythology, named the town after the Roman god of fire. Originally all the streets in Vulcan were named after the gods and goddesses of the classical world such as Juno, Mars and Jupiter. Vulcan was incorporated as a village in 1912 and as a Town in 1921.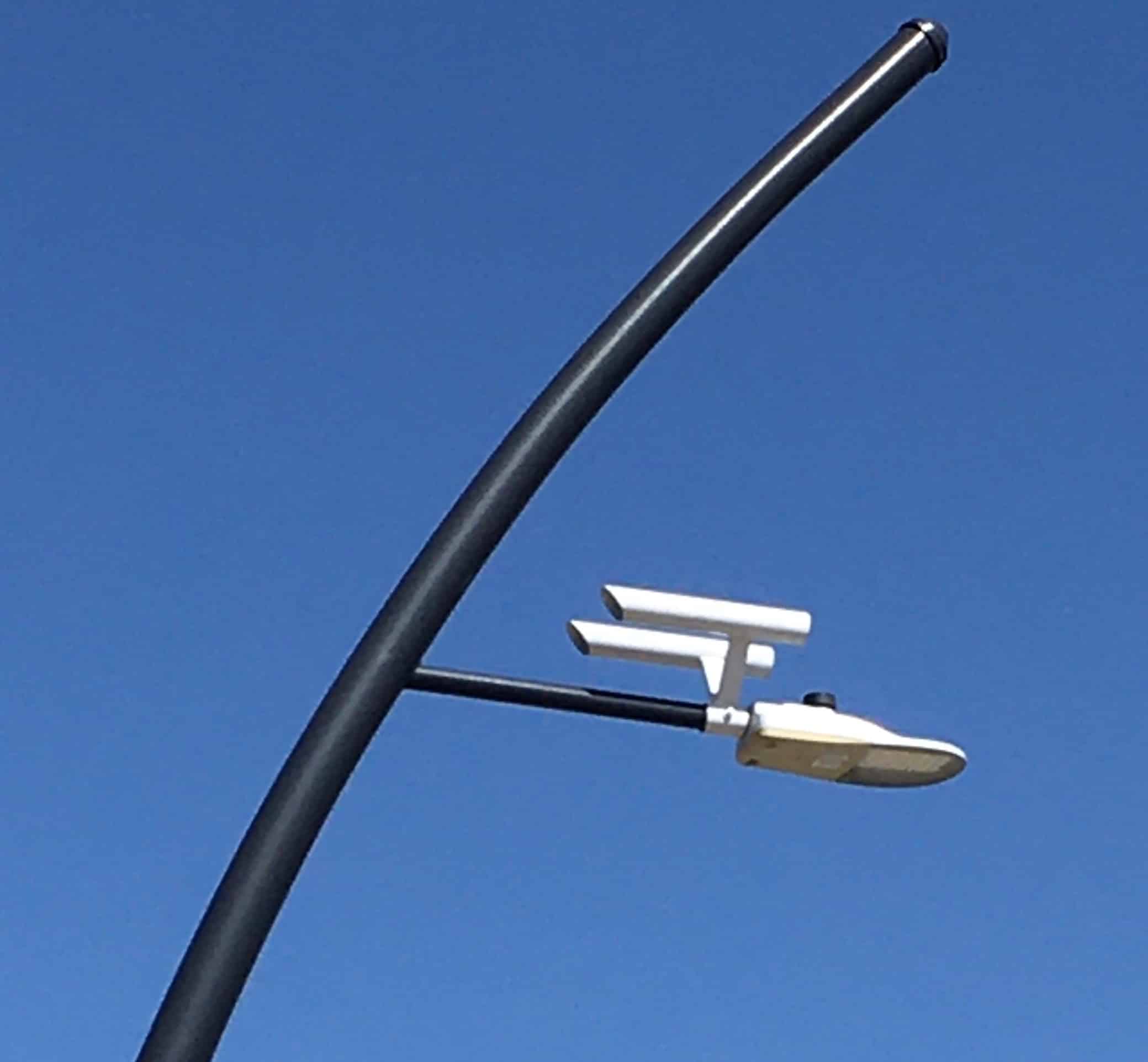 A sign at the base notes: Constitution Class Starship
Overall length 31′, Overall depth 9′ Primary Hull (Saucer)  15′ long. Total weight 5 Tons. Base specifications 40 cubic yards of solid concrete. Total height 19′.
There are also plaques in Klingon and Vulcan – just in case!
LIVE LONG AND PROSPER!
Beamed Safely Back to Earth
Safely back on earth we headed northeast to Drumheller in "Dinosaur Valley"  to visit The Royal Tyrrell Museum of Paleontology which houses one of the world's largest displays devoted to dinosaurs and fossils.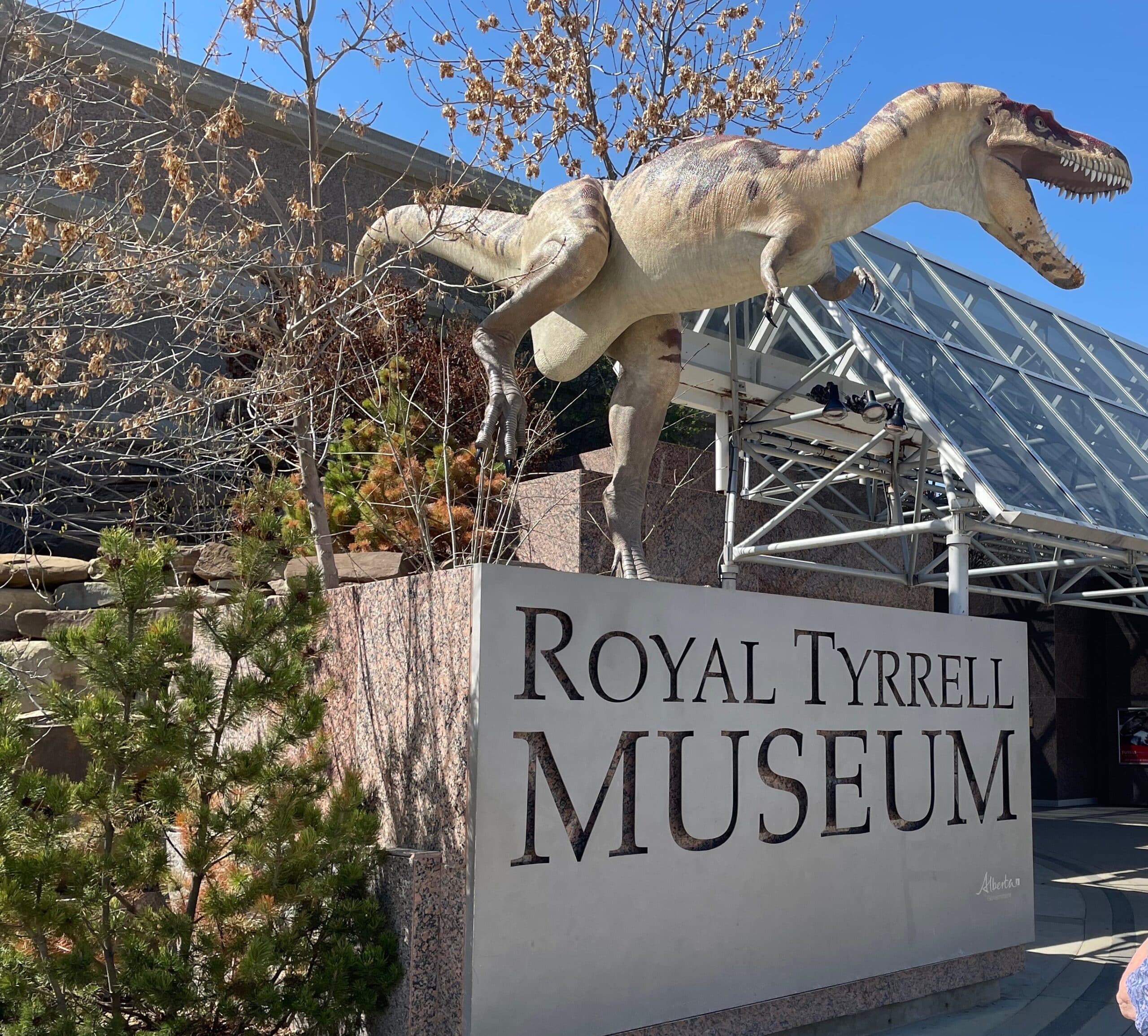 With many life size reproductions as well as actual fossils, behind the scenes there is an amazing amount of research being done by the scientists.  If you are in the area, it is a 'must visit'. It is under 2 hours from Calgary – and yes, it was just as impressive this visit as it was on our last visit 30 years ago!
The Rocky Mountains
As we headed northwest, the landscape changed from flat land and rolling hills to the foothills of the majestic snowcapped Rocky Mountains.
For us it was a return to a favourite location, our ski holiday destinations for many years.  4 days in Banff National Park, were not nearly long enough to explore the mountains and soak in their beauty. Banff was Canada's first National Park, established in 1885. It is also the world's third national park refuge, and part of the Canadian Rocky Mountain Parks UNESCO World Heritage Site.
Lake Louise ("Lake Lindsay" for you avid world cup ski-race enthusiasts!), Norquay and Sunshine are all amazing ski areas with a vast array of trails for all abilities and although we didn't partake, the skiing was still superb in early May.
The gondola ride up Sulphur Mountain leads to a 1 km boardwalk which provides unparalleled views of the valleys below and the surrounding mountains.
Be sure to include a visit to the Cave and Basin National Historic Site which has been a special place for Indigenous People for thousands of years and where railway workers happened upon thermal springs. Adjacent to the Cave and Basin is a small museum presenting the compelling and unsettling story of Canada's First World War internment operations between 1914 -1920.
Headed Home
With lots of other interesting and relaxing adventures along the way. Driving through the city of Calgary on our return to the airport we were blown away by the urban sprawl. The metropolitan area now boasts nearly 2 million people.
Coming from the Mad River Valley, VT with a population of about 5,000 people, and only 645,000 people in the whole state of Vermont, it was to say the least, a perfect reminder of why we live in a rural area in the beautiful state of Vermont!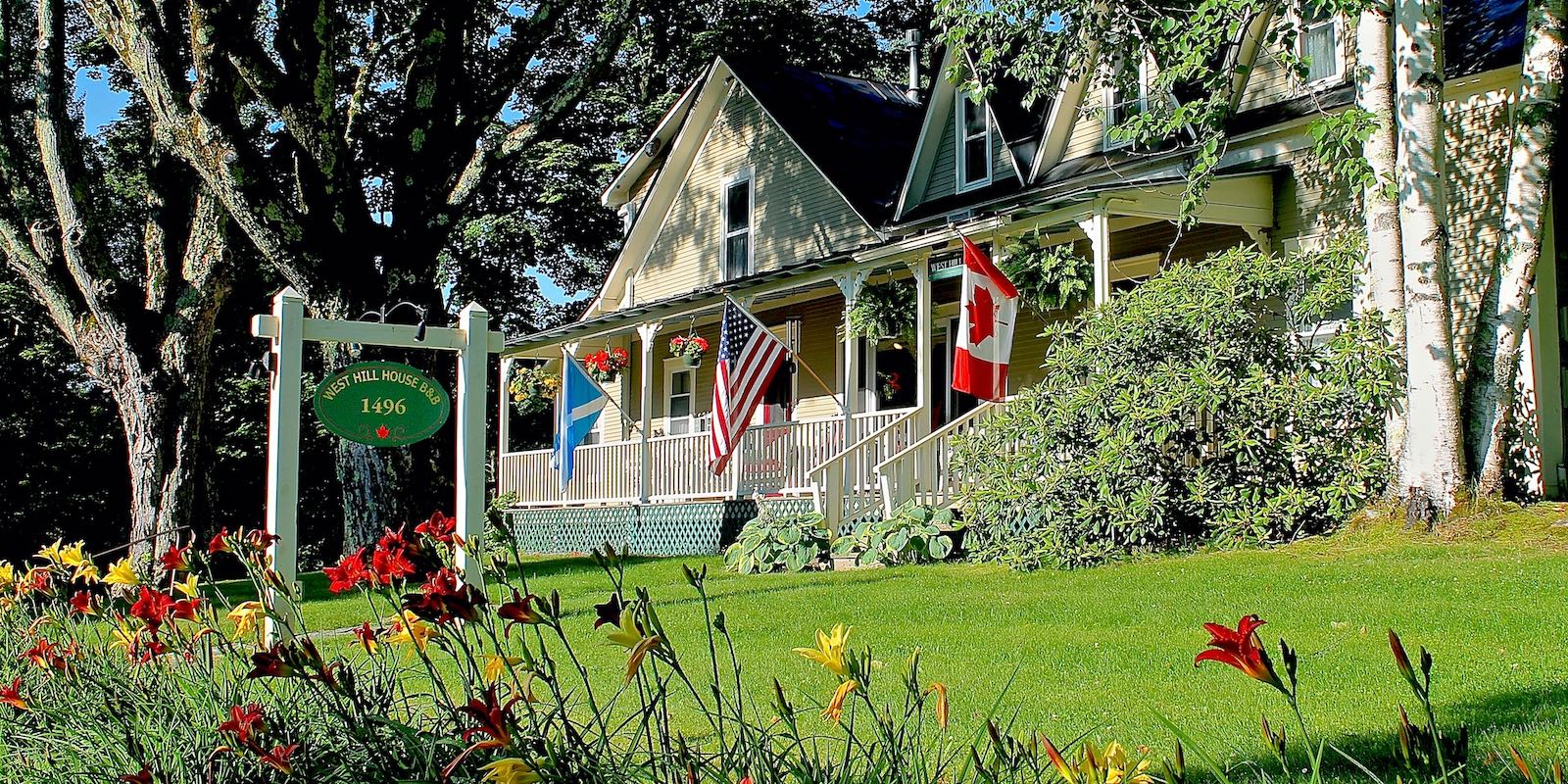 Throughout our adventure we met amazing B&B Owner/Innkeepers who made us feel like their personal guests. It was a treat to stay in such comfortable and welcoming accommodations – and have someone else make breakfast! Many thanks Willow Hill Lodge and Rosebud Country Inn. The restaurant owners whom we met were passionate about their food and working hard to keep their dreams alive while enjoying a slower lifestyle than that offered in metropolitan areas.
Welcoming You
So there you have it. It is always wonderful to explore and have adventures and always good to be back at the B&B to welcome those who are on their own explorations and adventures.
————————–
Accommodation highlights:
Favourite food finds:
——————————–