Peter's mum had a little saying for this time of year, "Spring has sprung, the grass is ris, I wonder where the birdies is." Well, some of the birdies are in the trees at West Hill House and can be enjoyed from the comfort of our Sun Room on blustery days and the garden on fine days. Binoculars and a bird book are at the ready giving guests the opportunity to check out the local bird scene around the inn. Today we saw hungry nuthatches, fat robins, a noisy blue jay, and a brilliant yellow goldfinch.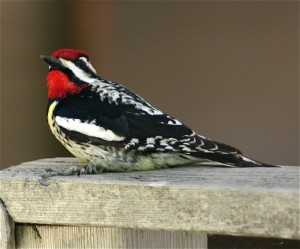 The goldfinch was amazingly bright, it looked like a sunbeam that had escaped from the sun. It sat in a nearby branch and preened for a few minutes giving us the opportunity to get a good look at this bright visitor. We have also been visited by a yellow-bellied sapsucker which, for some reason, though it might be productive to search for sap in the railing of our deck!
If you enjoy birding there are many places here in the Mad River Valley to go bird watching so grab your  binoculars and  bird book and book your room at West Hill House B&B, we're an excellent home-base for your birding expedition.