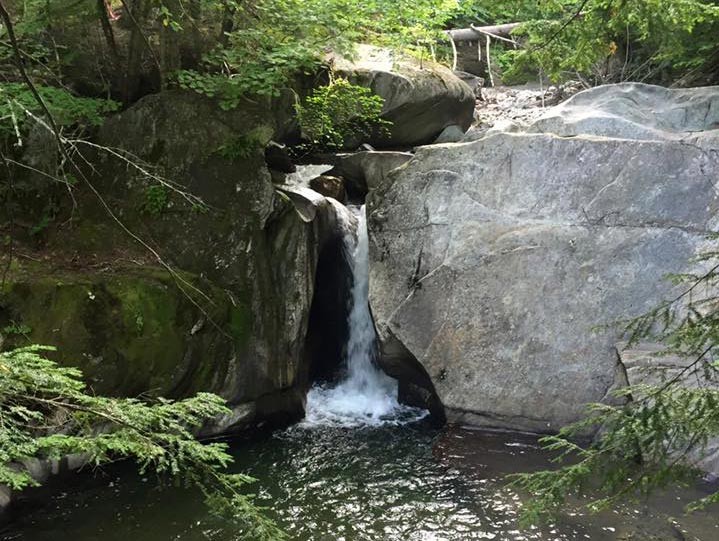 There is still a lot of good weather left for exploring all the Mad River Valley Vermont hiking trails. We can even turn you on to some lesser known, "secret" trails! Come discover the endless beauty of the Green Mountains.
Ah, the great outdoors! If there is any better way to get out and experience them than on a Vermont hiking trail, we aren't aware of it. The peaks and pathways through the Green Mountains never fail to impress.
Even during late October and November, the weather often allows for hiking. Honestly, with no leaves and the mild fall air to keep you cool, the views and experience are fantastic!
Mad River Valley Vermont Hiking Trails
Lincoln Gap to Mt. Abraham
5.7 miles, round-trip – 4 to 5 hours
Perhaps the most popular hike to a summit on Vermont's Long Trail is from Lincoln Gap to Mt Abraham. Lincoln Gap is just over 5 minutes from our B&B and Mt Abraham presents one of the most impressive peaks in New England. From Mt Abraham's 4000+ foot summit, you'll be treated to to 360 degree views of the Adirondacks, Lake Champlain, and the White and Green Mountains! On your return trip, you have the option to go back the way you came, or continue on to Lincoln Peak. This connects with a ski trail to the Sugarbush base, which leads to West Hill House B&B! We'll be happy to take you back to get your car, should you take this option.
Sunset Rock
2.2 miles, round-trip – 1 hour
Another, shorter hike on the Long Trail, the Sunset Rock trail also begins at the Lincoln Gap, just heading south. The hike is moderate in difficulty, in that it is short but relatively steep in places. Sunset Rock is around 30 minutes in and one of those landmarks you cannot miss. If you're not sure if you're looking at Sunset Rock then we can guarantee you are not! No view as dramatic as that of Sunset Rock's can be mistaken. It is definitely worth the hike.
General Stark Mountain
6.2 miles, round-trip – 4 to 5 hours
The General Stark trail includes lots of steep terrain, including sections where ropes and ladders are needed. The hike begins at the Appalachian Gap and runs south. The trail presents just as many challenges as it does impressive views. Due to the serious nature of the hike, we suggest sturdy shoes, lots of water, and appropriate layers for the fickle weather of higher elevations.
Molly Stark's Balcony
2.6 miles, round-trip – 2 to 3 hours
Molly Stark's Balcony is a steep, 2.6 mile hike north along the Long Trail that also begins at the Appalachian Gap. The trail gains over 500′ of elevation to provide a unique view from the flat ridge of Molly Stark Mountain summit. The trail continues over this summit and on to Molly Stark's Balcony for an impressive vista containing Camel's Hump, the Worcester Mountains, and all in between. Sturdy shoes, lots of water, and preparation for potentially inclement weather is strongly suggested.
Burnt Rock Mountain
5.2 miles, round trip – 4 to 5 hours
This steep, challenging hike takes you to some of the best views on the Long Trail. The trail head can be a bit tricky to locate, so be sure to check with us for detailed directions. The trail begins in the parking lot at the end of Big Basin Road, just before the steel pipe gate. Take the Hedgehog Brook Trail where, after around 2.5 miles, it joins Long Trail. Be sure to check out the glacial pothole found shortly after joining the Long Trail. It's one of the largest in New England! Burnt Rock Mountain's vantage point provides fantastic, near 360° views.
Mount Hunger
3.5 miles, round-trip – 3 to 4 hours
While difficult, the trail to Mount Hunger is considered one of the best Vermont hiking trails. This is a hike that will keep you working all the way up to the summit's payoff of expansive, 360° views of the Green and White mountains. The trail head is located around an hour north of our Warren B&B and is tantalizingly close to the Ben & Jerry's factory in Waterbury.
Mad River Valley Vermont Hiking Trails
There are other day hikes in the area. We'll be happy to direct you to the ones that suit your level of interest.