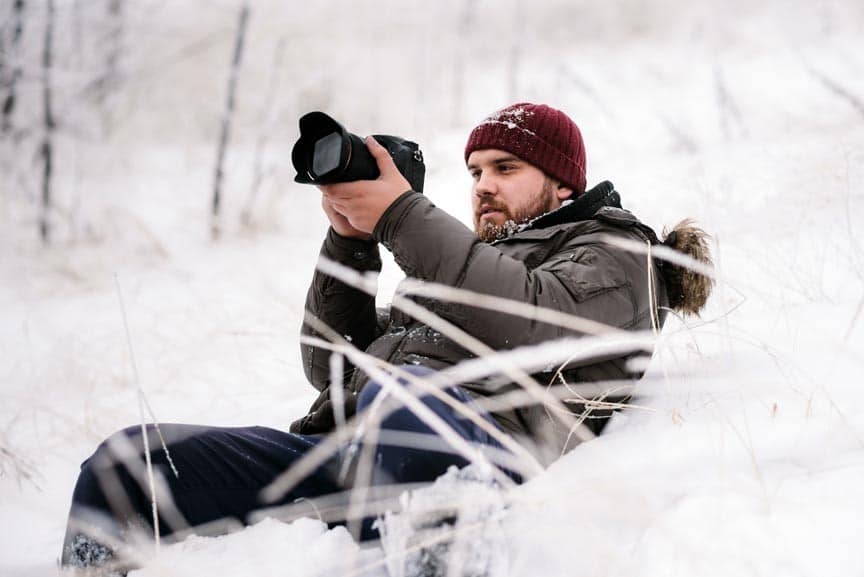 There is always something going on in Vermont's Mad River Valley as these two, upcoming Sugarbush events demonstrate so well: a Photography Outback Tour and Lawson's Beer Dinner at Allyn's Lodge!
There's no denying the incredible natural beauty of Vermont's Mad River Valley. Come discover it for yourself and take some of it back home with you in your camera when you attend Sugarbush's Photography Outback Tour!
This guided photography hike is an engaging and fun way to work on your digital photography and snowshoe skills at the same time. Hike through and shoot incredible Vermont landscapes with your DSLR or smartphone. Any digital camera that allows for manual settings will do.
Due to the small size of the group, Sugarbush snowshoe photo tours are flexible and tailored to the participant's experience level. You'll also get help and advice throughout your journey from a guide who knows their way around the Mad River Valley and outdoor digital photography. You will not be left struggling behind!
This instructive experience is scheduled for Feb 22nd, 2017, 10 am to 1 pm. Attendees must have snow boots and both a daypack and layered clothing is recommended. Tours meet at the Sugarbush Ski & Ride School desk in The Farmhouse.
Visit www.sugarbush.com for more information and to reserve your place in the outing.
If you think that looks fun, wait until you read this. A delicious craft beer-paired dinner followed by a moonlight ski?
The Lawson's Beer Dinner at Allyn's Lodge is an opportunity for you to enjoy a sampling of Lawson's Finest Liquids paired with fresh dishes in a three-course meal. This year's menu has yet to be announced but a peek at last year's should give you a good idea of the kind of meal you'll be served.
Lawson's Beer Dinner at Allyn's Lodge 2016 Menu
Starter – Cheese Fondue | Two Roads Hefeweizen
1st Course – Ceviche with Fresh Squid, Shrimp, Lemon, Tomato and Cilantro | Lawson's Super Session #2
2nd Course – Duck & Scallion Wontons with Soy Ginger Dip | Lawson's Spruce Tip Bitter
3rd Course – Charred Local Beef Rib Eye served with a salad of frisée with mustard caper dressing & Mad River Blue cheese | Lawson's Triple Play IPA
Dessert – Chocolate, Coffee and Maple Crème Brule | Lawson's Maple Imperial Stout
Allyn's Lodge is located at the top of Gadd Peak. Fireside dinners here are the stuff of legend, particularly when Lawson's Finest Liquids are involved. Add in a moonlight ski down the mountain after dinner and you're looking at one unforgettable evening.
Skiing back down isn't compulsory, however. One has the option of riding both to and from the dinner in the comfort of the Sugarbush Cabin Cat.
Those who are into working up an appetite can choose to snowshoe or skin to the lodge before dinner. Be warned: the trip up is a strenuous, hour-and-a-quarter workout.
Lawson's Beer Dinner at Allyn's Lodge is scheduled for February 23rd. Those wishing to make the trek up the mountain before dinner should meet at Sugarbush's Timber's Restaurant at 4:45 pm. Those who intend to ride the Cabin Cat should be at Timber's by 6 pm.
Visit www.sugarbush.com to reserve your spot.
Sugarbush Events
I repeat: There is always something going on in Vermont's Mad River Valley – and always something going on at Sugarbush, too!
If you have to miss these two Sugarbush events, don't fret. Their special events are often repeated throughout the season, along with many others. If these types of activities appeal to you, take a look at the Sugarbush events calendar: www.sugarbush.com/events-calendar/.
West Hill House B&B offers lodging near Sugarbush – and by near we mean just across the way! The slopes of Sugarbush are literally only a couple of minutes from our front door! This makes us the obvious choice for those looking for accommodations near Sugarbush.
West Hill House B&B would be happy to help you make your plans at Sugarbush or anywhere else in the Mad River Valley area. We even have snowshoes to lend out. Just let us know what you're hoping to do when you book your stay at our Mad River Valley B&B and we'll see what we can do!